Build a Dynamic Calculation App
Here is how to do it.
Turn your complicated spreadsheets into calculation apps everyone can use intuitively. Open as App takes all the logic, formulas, and charts into your app automatically.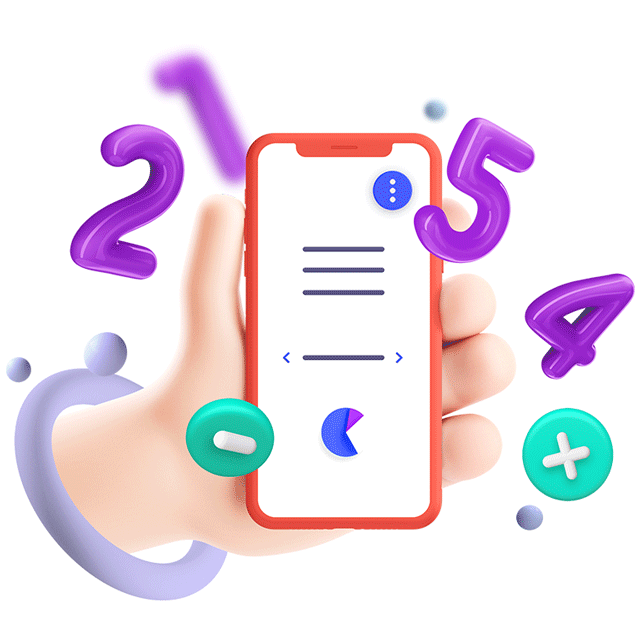 How to build an interactive calculation app
If your spreadsheets are scary for others or reveal too much of your know-how or intellectual property, turn them into apps. Then everyone can benefit and calculate costs, interest rates, quotes, or delivery times on the go. All your formulas will be automatically added to your app.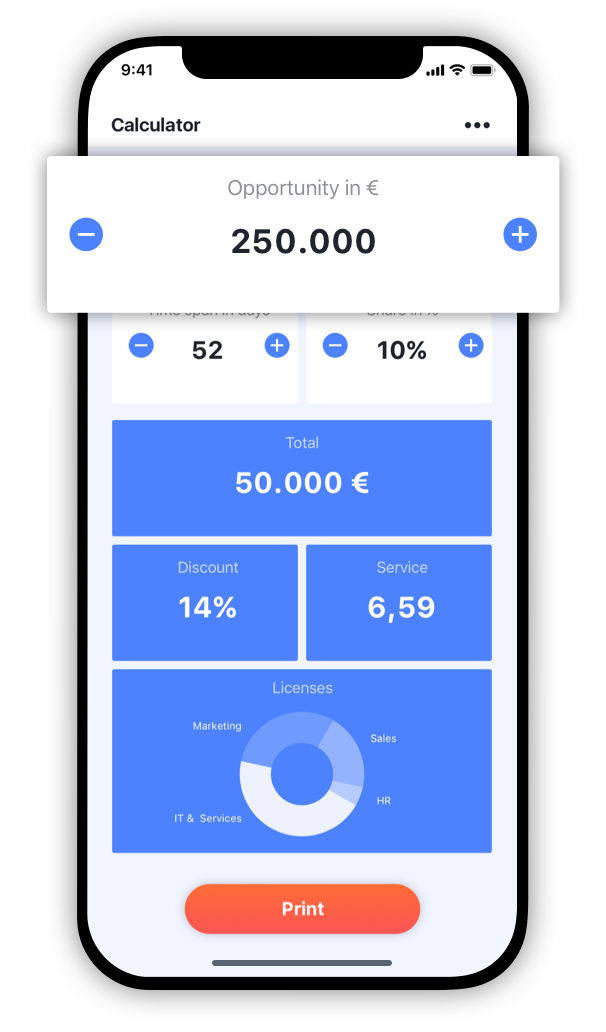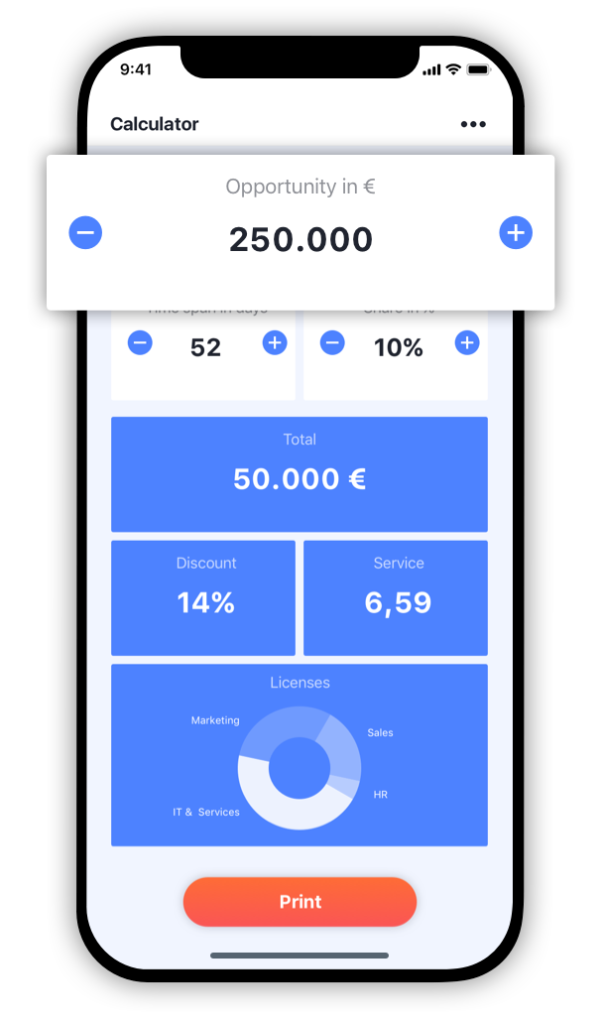 How should your calculation app look like?
A calculation app with Open as App has the same logic and functions as your spreadsheet. However, it will be much easier to use: Apps are interactive and can be structured in any way you like. When users input values, results are instantly recalculated.
Follow the app creation step
by step with a sample file
Start building your calculation app step by step
You'll bring the data, we'll bring the app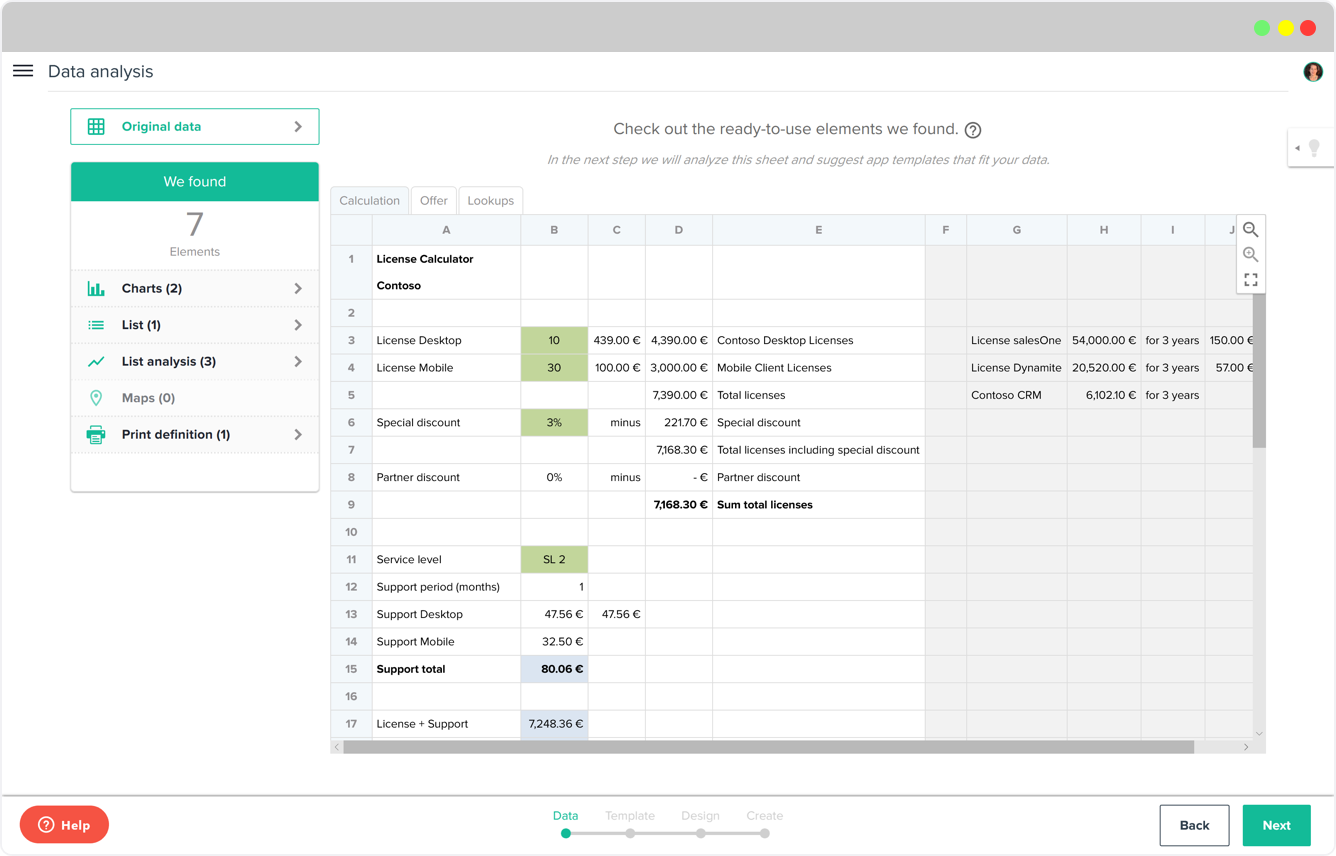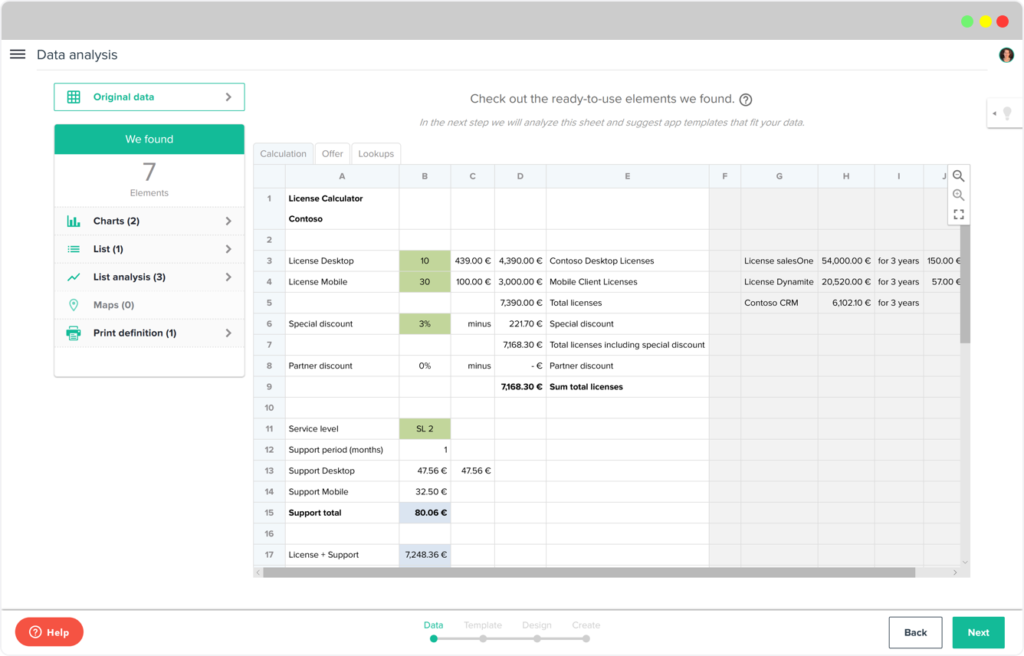 Link your Google Sheets or an Excel file via OneDrive, Dropbox, etc.
Simply upload it to the Open as App cloud.
Open as App will then analyze the logic of your data and show all the available formulas and charts, we found. Open as App recognizes common Excel logic.
This is where app creation starts.
Now, you are behind the wheel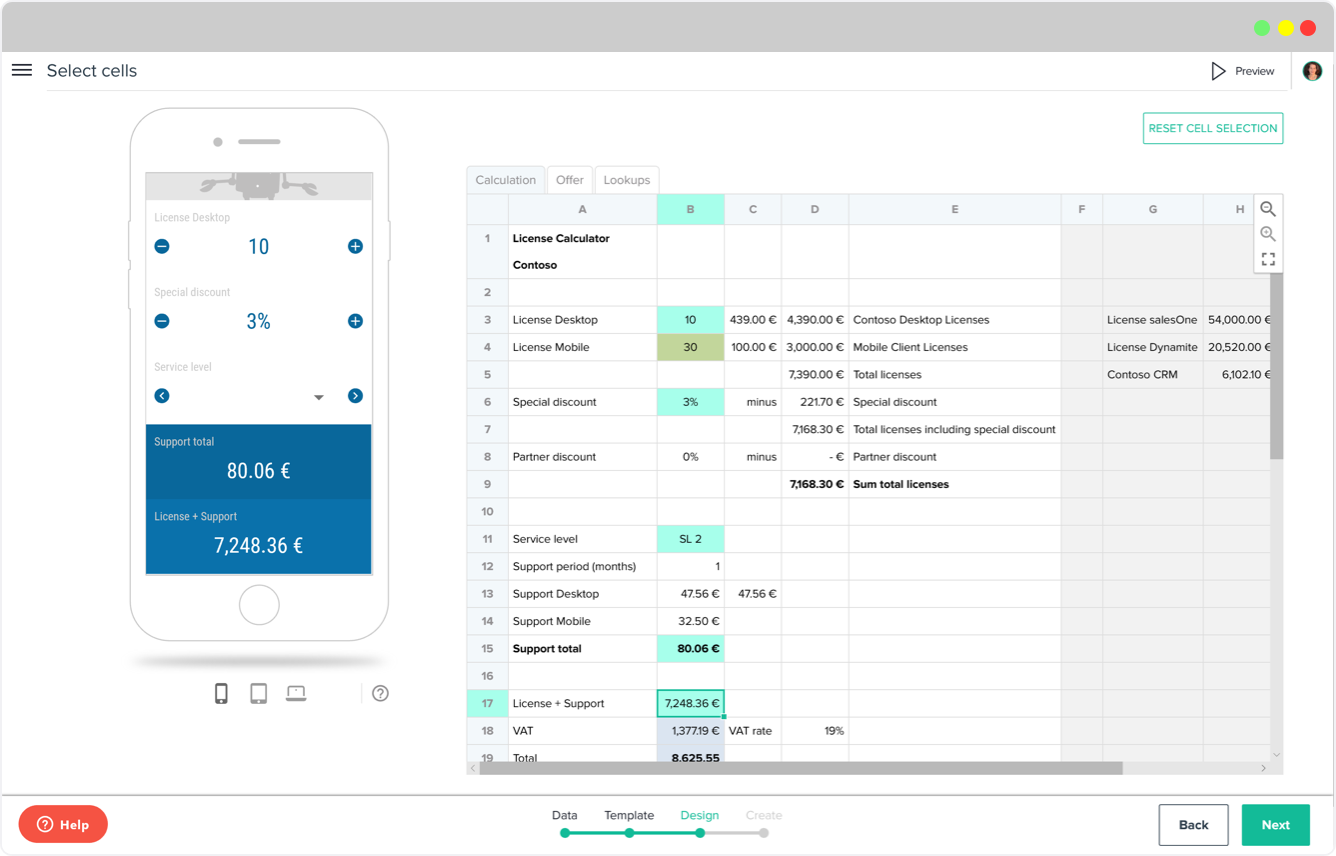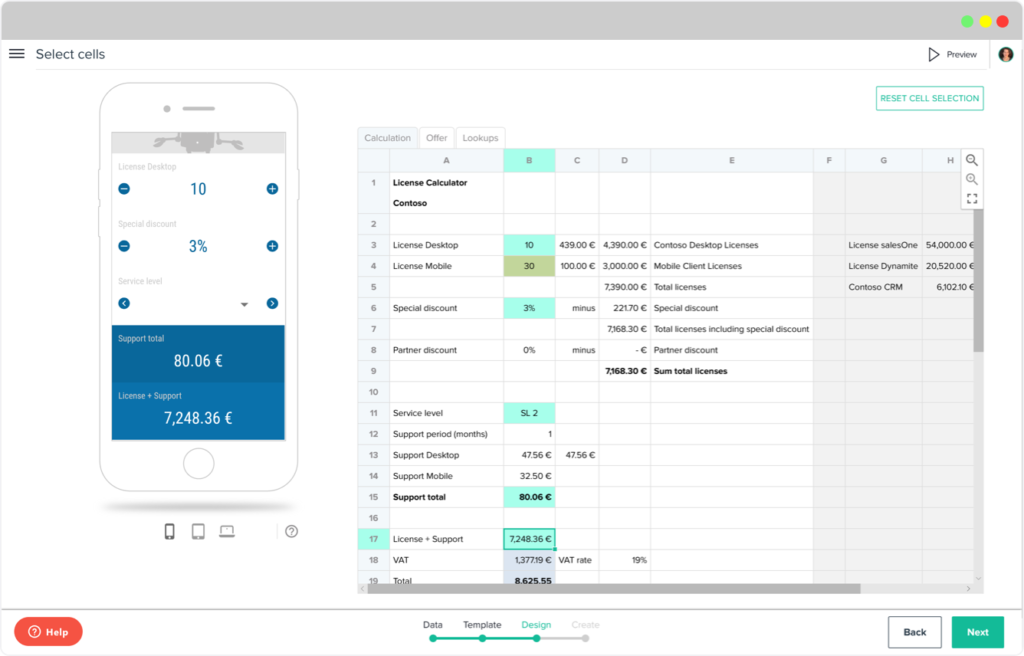 When your app type is a calculation, here is your next step:
Select the cells with the calculations formulas you want to display in your app.
Each cell automatically shows in your app prototype – blue if it is a result, white if it is an input value.
All data formats, like currencies, are automatically recognized.
Not happy with the result? If you see wrong captions, don't worry you can change them later. Here is how.
What happens in the background…
Our algorithm automatically identifies the formulas and input fields and applies them to your app prototype. It also automatically recognizes number formats (currency, percentage, etc.) and incremental logic. Later on, you can dynamically change values in the app and instantly see recalculations.
Your prototype is ready… time for design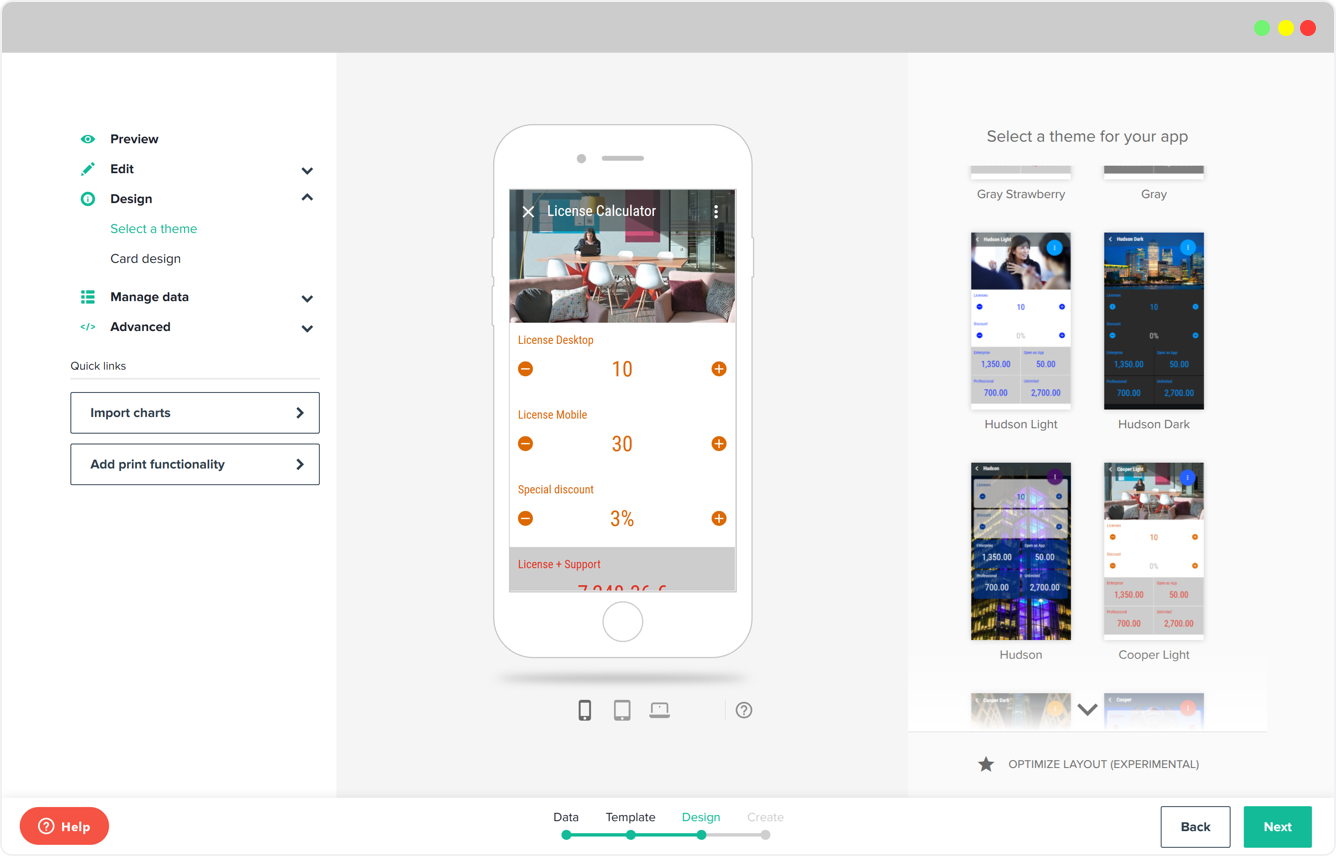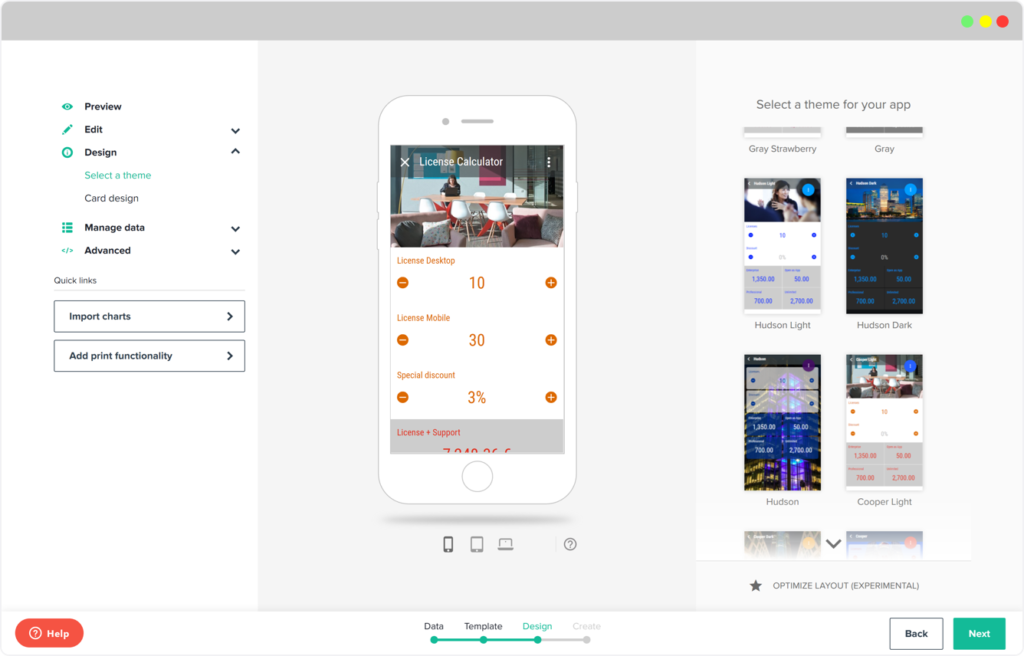 Add your brand colors, use a theme, or design all colors from scratch.
Rearrange fields or add new elements to your app.
If you have a printing area defined in your spreadsheet, Open as App lets you add this as a feature in your app, as well.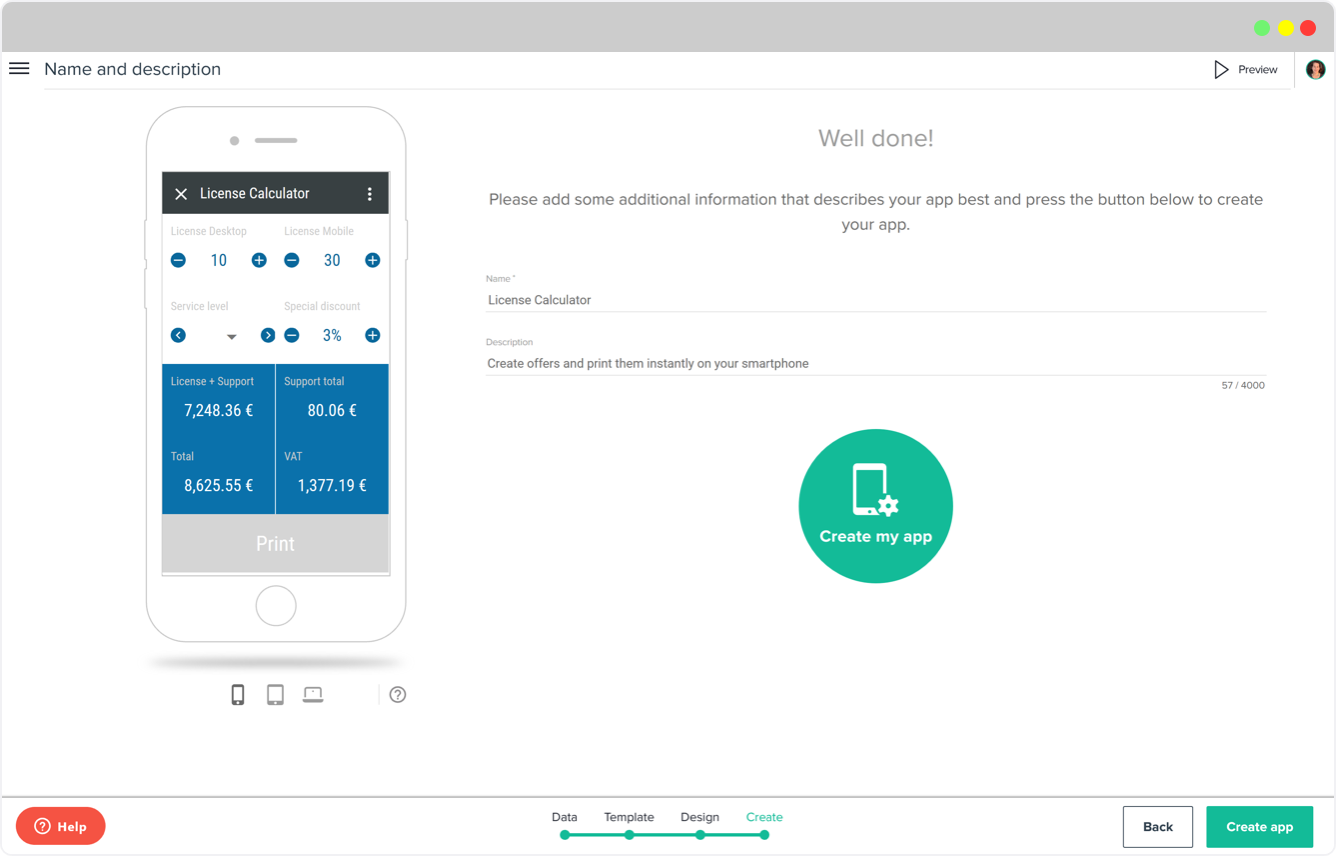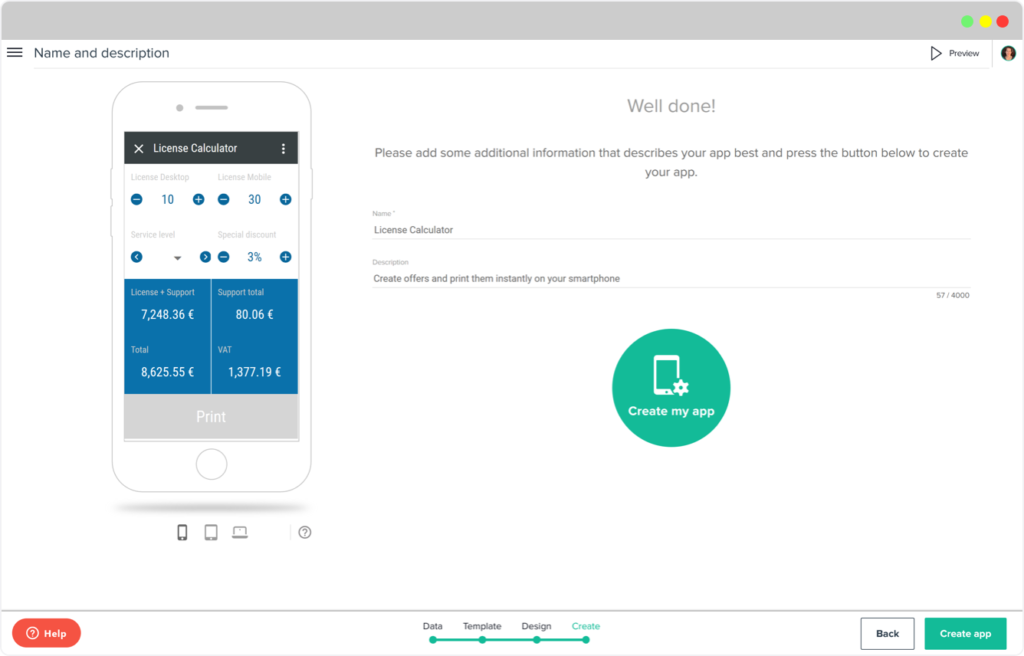 And when you're done, publish your app and use it with the Open as App container app on your smartphone. It works online and offline. By default, your app will at first only be available to you. Until you change the setting and invite others, of course.
Share and manage your app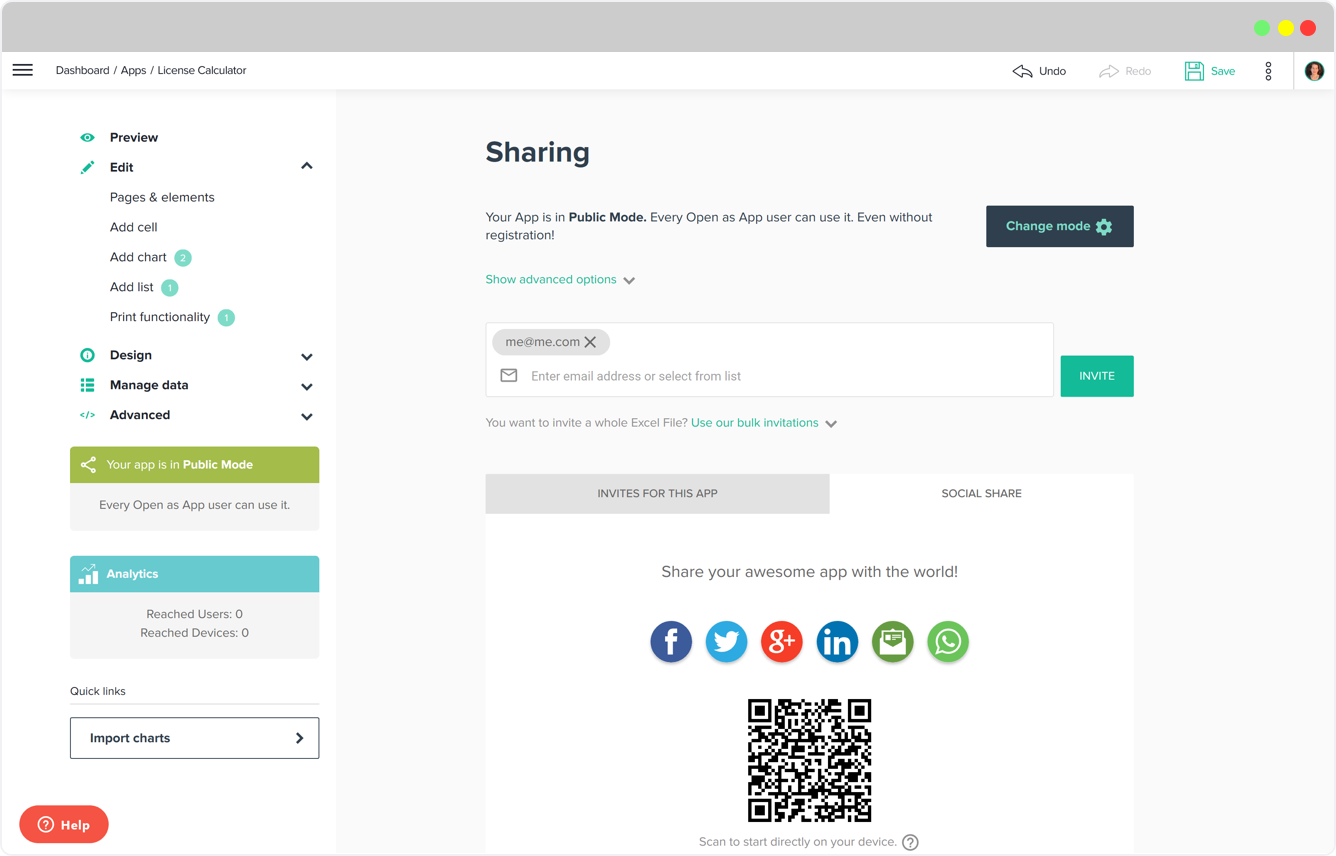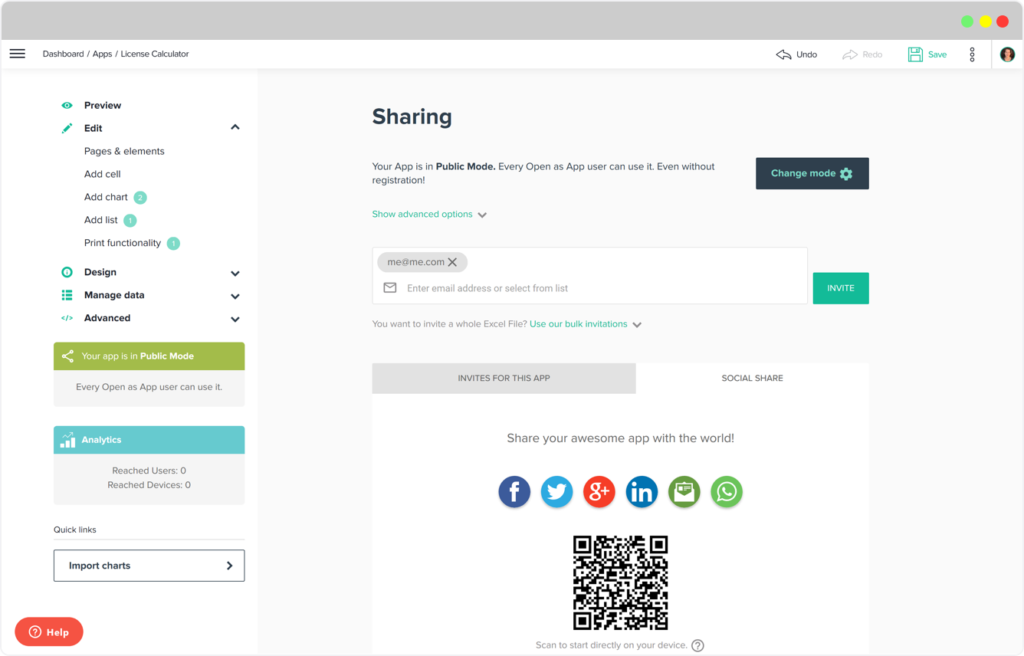 In the Open as App dashboard, you'll find your app in the Apps card. There are several ways of sharing it – depending on your app settings – private or public. You can always edit your from here or manage your app and its users.
Make your app even better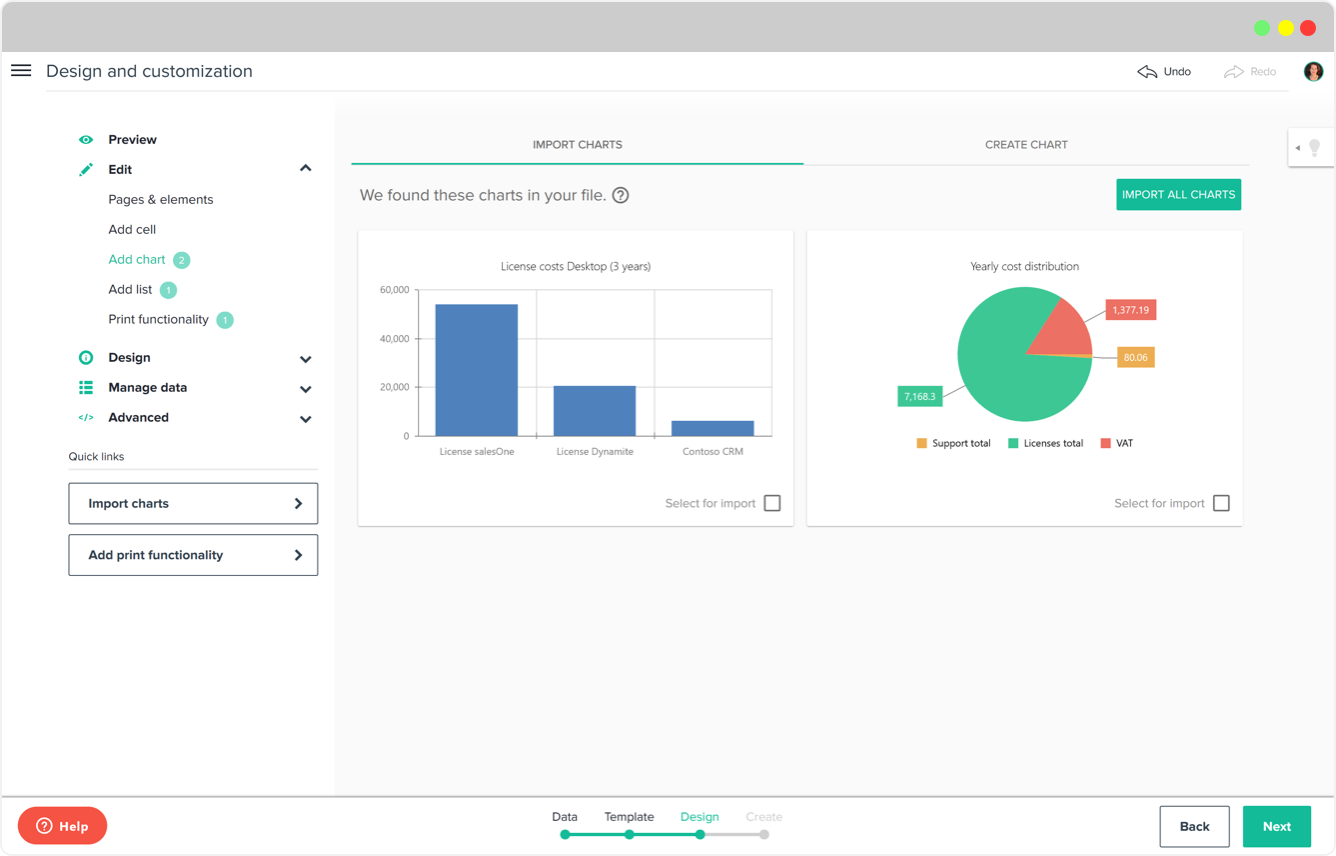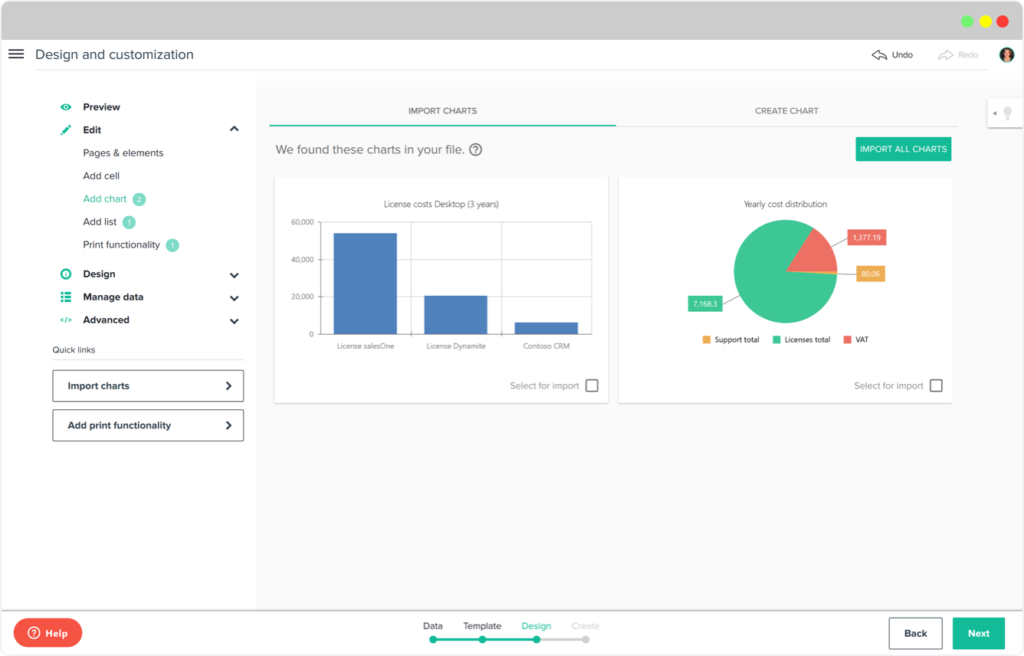 There are many ways to add more professional functionalities to your app.
Add a print function
Add charts automatically on a new page
Send a quote automatically to the back office
Add an action button e.g. for printing or emails