Are you taking full advantage of digital innovation and its benefits right now? The answer for most of us – irrespectively of the size of our company – is a straightforward "yes".
Every engaged professional and team leader wants to improve productivity and employee satisfaction. However, this can often be a challenging task to put in practice. Being at the forefront of new trends and new technology is not an easy game. Adopting new technology often requires a new set of skills, one that is hard to acquire on your own or expensive to hire external help.
The rise of no-code platforms provides a great opportunity to tackle digital innovation in an easier way and at a lower cost. With their help, anyone in your team can create a no-code app to streamline a work process and optimize overall productivity. Apps allow you to make better use of your data, transforming it in ways that best suit your specific business needs.
In order to create a great no-code app, you need to first plan well its purpose and functions. This involves working with your team to identify the most important needs that an app can solve. Then, by inputting your business data in a no-code platform, you can easily transform the idea into a working application.
Table of Content
In the guide below, you can get acquainted with the planning and creation process step-by-step.
Why create a no-code app?
Before you set on to create an app, it's worth discovering the types of situations in which an app can be of help. The purpose of the majority of applications is to collect data, provide know-how in the form of tools, or offer real-time information and reports. The most common case when you can benefit from a new app is when there are missing elements in the way you're handling a task currently. For example, the existing manner of executing a task may be slow, redundant, or may not use to the fullest valuable business data.
"The democratization of app development is a major benefit of Open as App. The platform has enabled us to solve business problems in sales which we could not have done via the average IT development timespan."
Dr. Oliver Braitmayer – VP and Global Head of Digital Sales, Siemens Financial Services
Some of the best cases for setting up an app include streamlining or optimizing a task that was previously handled with a spreadsheet tool such as Excel or Google Sheets through manual data input via email or phone, or through a database system. Here are a few of the situations where you could create an app to boost productivity and improve efficiency:
Having to resend information (files, reports, or databases) very often to different parties
Update of information is important but gets complicated (i.e. different file versions)
Data collection is slow and tedious
Data preparation and sharing gets complex
When you've identified a need you can address, it's time to see how you can actually go about doing it. No-code platforms like Open as App offer a great opportunity to build an app with minimum effort. As you already have the data in-house, you just need to find the best shape to transform it into. Creating a custom no-code app can fit best the exact needs of your team. In addition to the ease of use, it is also undoubtedly budget-friendly. Compared to the traditional process of software development, no-code platforms are compatible with the budget of the vast majority of companies out there.
"Smart reports in the no-code app appeal to everyone – much more than the boring spreadsheet look. In addition, we can now set user rights clearly."
Tobias Haungs, CIO, iwis
The benefits of no-code apps are numerous, both for your team and yourself. No-code is empowering everyone in a company to become a 'citizen developer' and to introduce higher levels of innovation in their workplace. For the individual, this is a chance to get their skills and insights recognized by others, while also adding value to the processes in the business. No-code platforms offer unprecedented speed of app creation, as well as great usability. Information is collected quickly, saving time and improving efficiency. In fact, the overall boost of productivity is significant, as people can share valuable know-how with everyone. With no-code apps, businesses can also plan better. Reports come to life as data is dynamically available, allowing for better prognoses and target setting.
How to envision your app?
To create a useful no-code app, you need to clarify its purpose and practical execution. A good first step is to consult your team about their software needs. This can inform you about the kind of app that would be able to address existing issues. You'll get an idea about the essential features that teammates would appreciate, as well as details about the way they envision using the app.
"Open as App has impressed us from the beginning. We can now flexibly use apps internally and in customer projects."
Klaus Schmidt, Managing Partner, PwC Germany
In fact, if your teammates are inspired, you can even host an internal hackathon. That's how you can create the concept and plan a workable app together. The result of the hackathon can even be a prototype that you can employ for the building process.
Once you've united on a common idea about a practical app, it's time to check what your data can offer. You need to sift through available business intel thoroughly, such as Excel, Google Sheets files, or an SQL database, for example. By doing this, you can determine which parts of your data are of the biggest interest and would make a good app, as well as what is important to use and what isn't.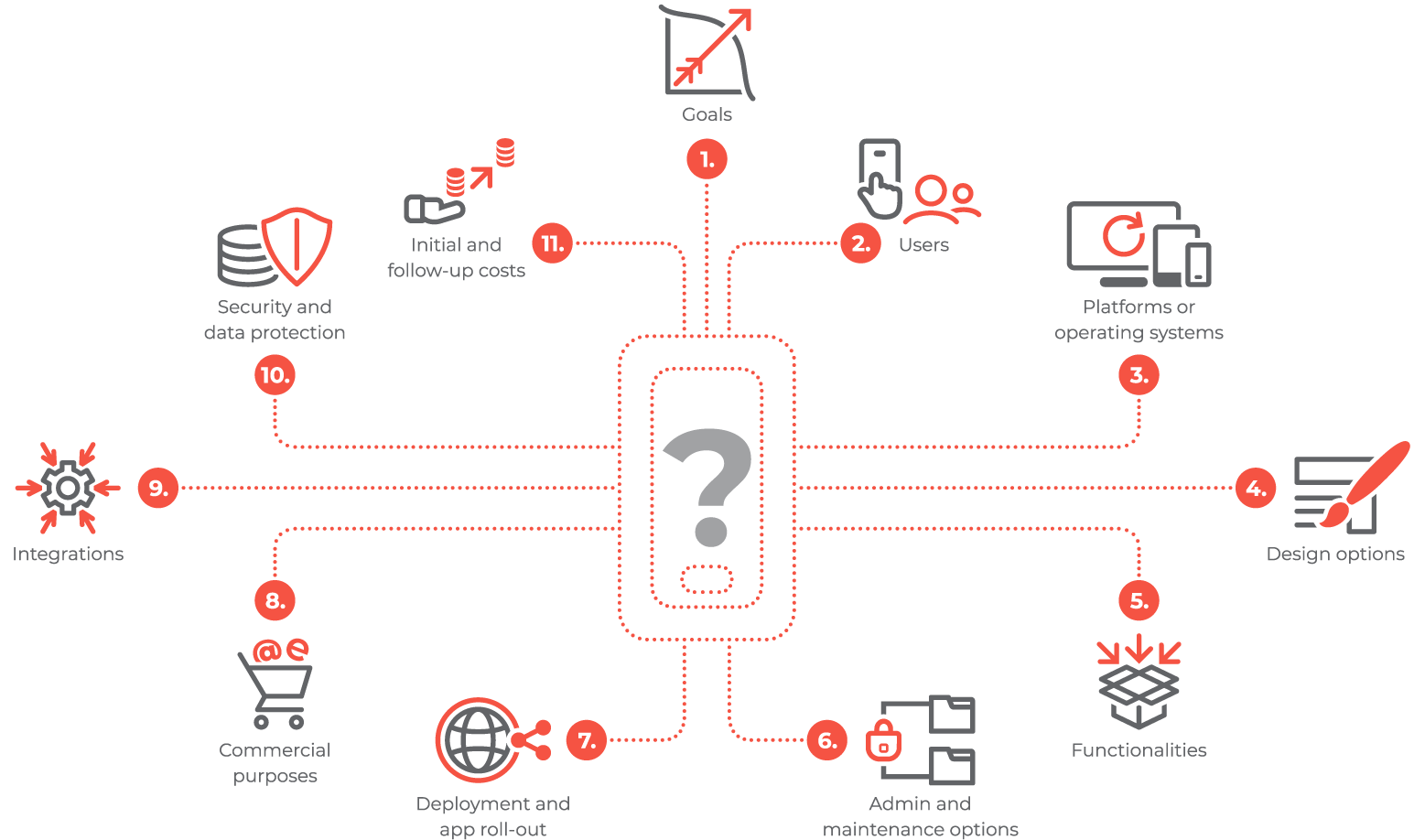 At the planning stage, it's a good idea also to consider the potential user base of the future tool. Your approach would be different if you're creating an app for a team of five or for a team of 300 people. If the maximum distribution circle is large, the impact of the app is thus higher, as it would serve a large number of team members.
Creating an app for a smaller team (or testing with a limited audience, i.e. a single team/department within the company), allows you to move quicker and be more open to experimentation and feedback. If you're designing a critical app that your whole team relies on, you might want to adopt a more careful approach.
Prepare your data source
Your next step in the process of no-code app creation is to select the data that you want to transform. A spreadsheet or a database is not easy to use on mobile because it presents too many details for a small screen. If you turn the spreadsheet into an app, you get much better usability. To achieve the best results, it's best to focus on the major elements of your Excel or Google Sheets file or of your database and select only the essential ones.
"Open as App is the digital transformation in practice."
Michael Schneider, Head of Advisory & Risk Innovations in Group Risk Management, Commerzbank
In choosing the features, it's important to embrace the user's perspective in order to provide the most suitable content and UX. Clearly establish what people will want the most from the app, including the useful features and avoid the redundant ones. As users often work on mobile devices, keep this in mind for the data and feature selection.
Prior to inputting the data in the no-code platform, you should take care to check and format it appropriately. Automatic app creation is based on machine learning, so it requires machine legible information in order to work well. Any element that may mess up your spreadsheet when sorting or filtering would not be a good idea for no-code app building as well. For example, you should take out unified cells and color codes, but make sure to format cells according to their content. It's also important to clean up your spreadsheets from duplicates. There are many Excel and Google Sheets tools that can help you put your data in good shape.
Make sure to consider security issues and app updates at the stage of planning as well. Depending on how sensitive your data is, you may want to make your app either private or public. You also have to establish if the nature of the app requires that it's updated from the data source at all times. In any case, Open as App takes great care of customers' data, so you don't have to worry about unauthorized access and breaches.
Build your app in the no-code platform
"With Open as App, we can work directly with our data while leveraging the benefits of digitalization. The platform has helped us build resources and expertise in using apps for our communication with broker partners."
André Riemenschneider, Sales Director, ARAG Partner Sales
When you've prepared your data, it's time to get started with the actual app creation. You may want to first draft a scribbled prototype to envision the app, as this will give you an idea of how to go about its design and structure. Whether you have this or not, you can launch the process in the no-code platform. A good starting point is to consider the resource on how to turn an Excel spreadsheet into an app.
First, upload your Excel or Google Sheets file into Open as App. You can either select a file from your device or link a file that's in the cloud. The platform will read the data that you input and will offer recommendations for the format of the app.
Next, you can choose a design theme from ready-made templates. You can also unleash your creativity, as with the App Designer functionality you can tweak the appearance of your app. It allows you to change input cell functions, as well as to adapt the app to your branding and style. Some of the things that you can do include adding elements such as charts, lists, and calculations, creating drop-down menus and action buttons, changing colors, setting user rights, and adding visuals. You can also rearrange the elements freely and control their appearance through the Preview functionality.
As a general rule, it's a good idea to keep your design minimalistic, so that users can focus on the content. Typically, this means using only a few colors and being selective about the elements included. You should also strive for consistency, such as assigning the same color to the same elements.
Test and share your app
"With Open as App, we can quickly accompany processes or sales ideas digitally or create online applications for special risks based on our data. Our conversion rate is thus noticeably higher. So it's great for everybody – brokers, employees, and the company."
André Riemenschneider, Sales Director, ARAG Partner Sales
When you've experimented with the design and have settled on the features you want in your app, it's time to publish it. You can first publish it in a way that's only visible to you. This allows you to test it and go back to the editing phase if necessary.
The next phase usually involves inviting a small group of users to test the app. They can be either teammates or trusted partners who've agreed to help you. Certainly, they should be people who are enthusiastic about the project and who have some understanding of your business and its processes. This is a key stage, as its purpose is to inform you how to make your app better. The test group can give you invaluable feedback, which you can then assess and implement. Once you've tweaked your app after the testing, you can go ahead to share it with its intended larger audience.
With Open as App, you get different sharing options for the diverse security levels that you may need. As mentioned, you can first launch the app in private mode. It allows you to invite users to view or work with it, but nobody else will have access. You can also publish the app in public mode. In this case, you can invite people to use it via a link, a QR code, or on social media. For larger companies, Open as App also offers enterprise-grade security, so you can use the platform with any security requirements.
Create your no-code app with OAA now
"We have been using Open as App for almost a year. The creation and distribution of apps are very easy. The added value is enormous. For our staff, the apps are extremely helpful because they now have easy and quick access to reliable information."
Dr. med. univ. Michael Schneider, MedUni ViennaCreating a great no-code app is easier than you think. Make sure you plan well in advance and prepare your data, and then just get started with our App Creation Wizard.