It's Friday evening and Jason Tao (name changed, for privacy reasons), the CEO of a startup in the finance sector, has some good news to share with his investors. His company just closed three new sales deals in one day and has three more in the pipeline.
As he calls one of his investors, Alex, to share the news, they start discussing the impact of these new deals straight away. His investor is currently travelling so he can't pull up a spreadsheet to check the numbers but luckily that's not required. Both of them are using the reporting app that Jason created for the purpose which demonstrates the impacts on liquidity and financing in real-time.
As the conversation continues, Jason raises the question of hiring two new employees to boost the sales acquisition process. They end up discussing the possible best and worst-case scenarios of hiring new people, based on the data. When they hang up, Alex sends the news round to his partners. They also have access to the app, and can instantly check the data and provide feedback.
A frequent use case for Open as App is its application in creating a startup reporting app that allows for professional reporting and efficient collaboration with investors. Over time we've noticed that when it comes to reporting, startups frequently have the same issues that they present us with when looking for a solution.
Noticing those similarities, we've created a story that details the importance of startup reporting, the challenges that companies frequently experience, and how Open as App has helped them overcome these challenges.
Table of Content
The Story: Assessing the impact of business decisions
Jason has a passion for big data, business intelligence (BI), and innovation. After having spent a few years in the finance sector, he's decided to give it a go and start his own business. With the AI-based software that his startup has developed, Jason wants to improve customer experience and personalization for insurance companies.
Recently, Jason's startup received its first major investment. Several investors teamed up to help Jason further develop and scale his software, and to get it on the market. And now there are the latest successes in sales and Jason's idea to hire more sales staff, which investors need to vet before approving it.
On Monday Alex meets up with one of his partners in the investment company to discuss the new development in Jason's startup. Using the app, within a few minutes his partner is up-to-date with the situation. He understands where Jason's company is currently and recommends to hire new people. Then he is off to another meeting but, thanks to the app, he is well informed without having to dig into the spreadsheet.
But it's not just for investors that Jason needs some kind of business reporting solution. When it comes to his own planning and thinking, Jason also needs something that's less cluttered, so that he can try out various scenarios and strategize efficiently. Moreover, in his conversations with his colleagues at the startup, and even his own family with whom he wants to share ideas, he must be able to do so in an easy and accessible way.
This is why Jason is using the startup reporting app from Open as App as a solution.
The Challenge: Startup reporting at a glance
Reports are a central part of the communication between startups and their investors. Reports help keep investors up to date, allow investors to spot issues and take measures or give you advice, and they are a standard requirement in the startup-investor relationship. But good reporting is not an easy thing.
A proper report typically takes a long time to compile while at the same time it has to be dynamic so as to allow for multiple scenarios or prognoses to be examined and assessed. As the most dynamic tool for such data manipulations, Excel is typically the solution that is used for startup reporting.
Why good reporting is key for good communication?
Easy or not, good reporting really is key to the process of building a startup with the help of investors. Apart from keeping investors up to date, reporting also:
Allows for common understanding regarding the current status of the company and the potential and dangers to its development
Helps investors and startups settle on reasonable goals that are grounded in data
Demonstrates current performance and changes over time, based on previous decisions
Provides transparency for decision-making, especially if it allows for dynamic forecasts and modeling
Improves investor relations beyond keeping them happy and updated but also gives them the chance to add value, provide feedback and constructive criticism
Enables sides to be more engaged and actively participate in the planning process
With all of the above in mind, Jason sets out to map out all of the business's dimensions in Excel. But he soon finds out that the end result is hardly something he can make good use of with investors.
The disadvantages of using Excel or Business Intelligence systems for your reports
Of course, spreadsheets are indispensable when it comes to creating complex models and calculations. They are literally part of the engine that moves businesses forward across the globe. Moreover, Excel is a universal tool at this point and more or less everyone has access to it or Google Sheets.
But open spreadsheets also have various disadvantages and flaws that make them unfit for the purposes of business reporting, as in Jason's case:
No data security – spreadsheets offer very little data security both with regard to the possibility of data leaking as well as with regard to the security and internal consistency of the data.
Limits to how data can be used in other formats – if exported as a .pdf file, in the attempt to make the data more comprehensible, this limits the ability to use the report in a dynamic fashion. Such exported versions also quickly and easily become outdated.
Little control over distribution – whether it's the spreadsheet or some other file format, there is little to no control over where these files end up.
Data fragility – when sharing a spreadsheet over email or through a link, there is the very real danger that in playing around with the data, users may corrupt it involuntarily, effectively making it impossible to use.
Business Intelligence (BI) systems, on the other hand, are great for analyzing data and finding trends. They cannot, however, provide forecasts and simulation. When BI is used to create reports these are static, and cannot provide the dynamic reporting functionality which a startup, such as Jason's, requires. An app that allows you to change content dynamically – as you can do in Excel – can provide this degree of functionality but with greater user experience.
These are only some of the various disadvantages of open Excel data, static PDFs or BI systems when it comes to using them as a business reporting tool. Spreadsheets are, of course, still number one when it comes to getting the right figures for sound decision making.
But seeing the limits of using a spreadsheet for the purpose of reporting and discussing, Jason wonders whether he can utilize the data in a different way. This is when he learns about Open as App.
The Solution: Creating a startup reporting app
Open as App allows users to take any type of structured data organized in a spreadsheet and turn it into an app. This requires zero programming skills as the platform will automatically recognize the data, as long as it's properly formatted, and create the app. Users are given various options to customize the app so as to adapt it to their own needs. This same logic applies to all kinds of apps, whether it's a simple contact list or something as complex as a startup reporting app.
Why create a startup reporting app?
So what makes it worthwhile for Jason to create a startup reporting app with the data he's already put into a spreadsheet? Some of the advantages of using an app include:
Secure sharing – app owners can specifically determine who they want to share the app with and limit the number of users who have access to it.
Avoid misuse of sensitive data, such as the one featured in a business report is protected and no one can walk away with it unauthorized and use it for their purposes.
User-friendly – unlike spreadsheets, apps are highly user-friendly and intuitive to use.
Easy access and comprehension – an app can be designed to show only those aspects (cells) of a spreadsheet that are relevant to the user and keep the rest hidden, so as to avoid confusion.
Looks and feels more professional – apps are better at capturing attention, which is particularly important with investors; creating a specific app for the purpose of your business reporting needs communicates the degree of care and detail that you put into your work.
Accessible on mobile – spreadsheets are a terrible thing to work with on a mobile device; an app, on the other hand, is designed with mobile devices in mind and can be used in pretty much any situation – whether you're waiting to board your plane, attending a meeting or having a conversation.
Data cannot be corrupted – corrupting data in a spreadsheet frequently happens without the knowledge of users. One wrong click and the whole logic of the spreadsheet can go to waste – this can have catastrophic results for business decisions. With an app there is no danger of corrupting the data as the logic of the spreadsheet is preserved securely and separately from the app itself.
With that said, let's have a look at Jason's reporting app and what it contains.
Features of Jason's data reporting app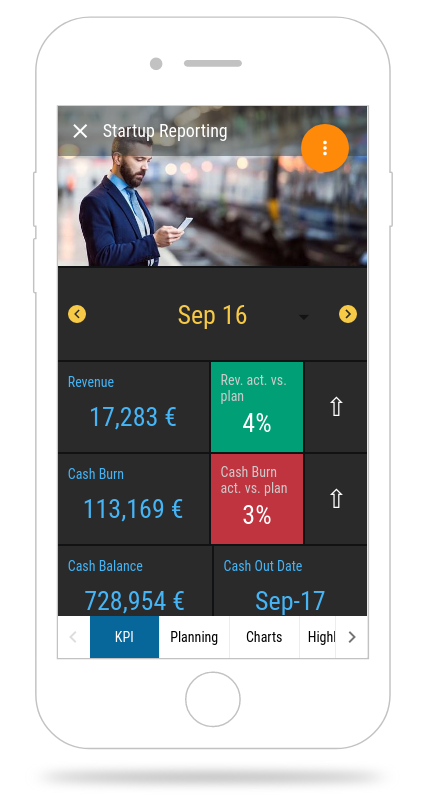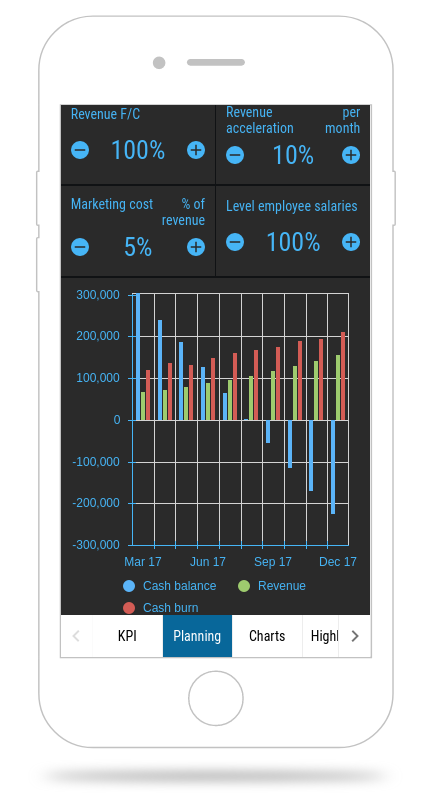 The following are the central elements featured in Jason's business reporting app:
A monthly KPI tab that includes:

Revenue, cash burn, and cash balance fields, as well as actual revenue vs. plan, and actual cash burn vs. plan
Numbers of leads, downloads of his product, licenses, users, contacted partners, and headcount

A Planning tab that includes:

Adjustable revenue F/C, revenue acceleration, marketing cost, and level employee salaries fields
A visual representation of cash balance, cash burn, and revenue over time

A Charts tab that visualizes all of the above tabs and fields in various ways
A Highlights tab which allows users to learn more about important aspects of the business in terms of its organization, events or achievements, as well as details about the product and milestones
A Business opportunities tab where Jason can include all types of opportunities which investors might want to know about – demo and presentation opportunities, prototypes being tested, offers made, and licenses sold
Apart from the formatting and design of the app which makes it much more user-friendly than a spreadsheet, it also retains the same functionality and internal logic that the spreadsheet offers. This means that when a value is changed by a user this is dynamically reflected in the various charts across the app. For an example of this, see the following video:

Moreover, the app also allows you to create separate scenarios for your business planning which you can save and make visible only to yourself or to other users as well.
So, to go back to Jason's case. With his app ready, Jason can easily demonstrate the impact of various business decisions in the Planning tab. For example, by hiring new sales employees and thereby raising the level of employee salaries, it immediately becomes obvious that cash balance will be reduced if other variables stay the same.
But of course, hiring more sales should ideally lead to greater sales acceleration. So by adjusting the monthly percentage of acceleration, Jason can determine the goal that they need to hit to maintain a good balance over time.
Jason now has a tool to simulate a variety of scenarios and make sense of the dynamics of the business. He can use this data both for the purposes of reporting to his investors as well as for the purposes of sketching desired outcomes and setting goals with them.
Moreover, his app makes immediate sense because it only provides the data that is needed for analysis, while keeping the logic in the background where it is safe and does not create confusion for users.
So what did it take for Jason to create his app?
How was the startup reporting app created?
All that was necessary for Jason to create his app was to have an organized and well-formatted data source (i.e. a spreadsheet with charts). After creating his business reporting spreadsheet in Excel or Google Sheets, Jason then performed the following steps in Open as App:
Upload the spreadsheet to the platform
Select 'calculation' as the app type
Add the relevant cells which you want your app to display and which you'd like to be able to manipulate
Structure the app according to your needs and preferences, and add various extra features
Select those charts from your spreadsheet which you'd like to include to add them to the app
Publish the app and test it in-house with members of your team
Revise the app, if needed, and share it with the relevant parties in private mode via invite
Because in a flat spreadsheet you can easily see everything, Jason started to make some smart adaption. He added a monthly drop-down menu to his Excel sheet. So, now the charts change dynamically from month to month in his app.
These are all the steps that it took for Jason to create his reporting app. At the same time, the payoff for both Jason and his investors is significant. Jason can use the app on his own to think about the best strategy to adopt for his company, while his investors have immediate access to all the important business data that they require.
Finally, all of Jason's startup's data is secure and hidden from sight which allows him to discuss or share the app with other parties without risking to reveal too much.
If you're curious about how it works, you can try it yourself! Start with our Free plan to give app creation a try and see all the ways in which you can utilize the platform. If you need more features and functionalities, you can then move to Basic or even try our Enterprise package.