Build an Easy to Use Survey and Data Collection App
Here is how to do it.
Increase the speed of data collection and multiply your response rate with an easy to use survey app – automatic evaluation included.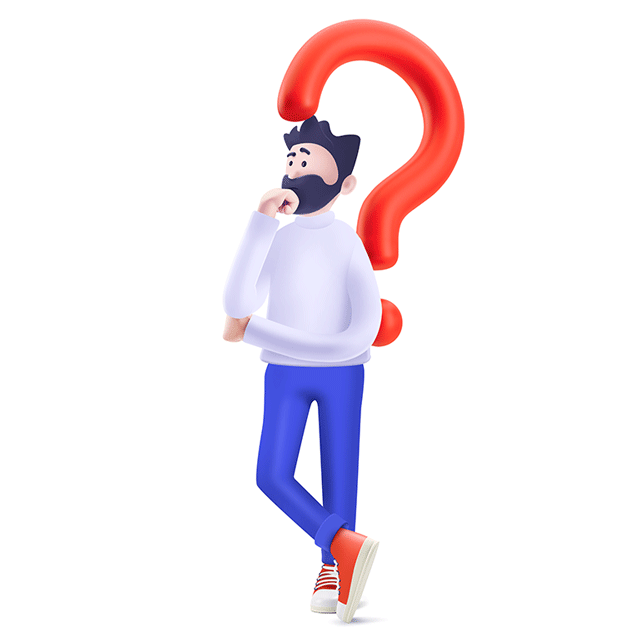 How to create a survey app with automated evaluation and export
Are you tired of waiting for feedback, report updates, or survey responses? Stop sharing spreadsheets, start using apps. Turn your report or survey spreadsheets into user-friendly apps – and evaluate the response automatically.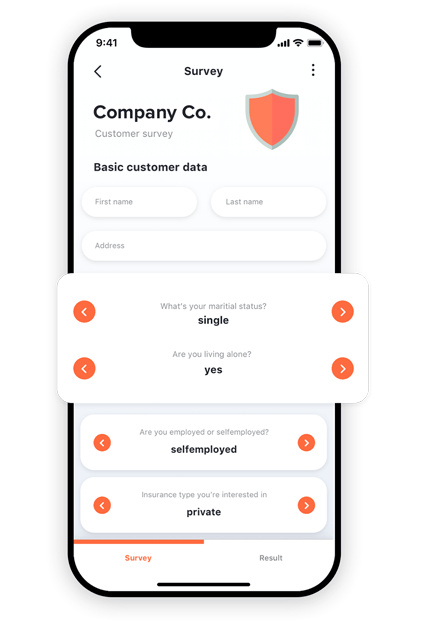 This what your survey app can do
Everyone instantly reports results on the go, provides necessary data or fills in a survey questionnaire in an easy to use the app. There is a lot of ready-made functionality for your apps, such as minimum or maximum input values, dropdown menus, input sliders, and many more.
Follow the app creation step
by step with a sample file
Start building your survey app in just a few steps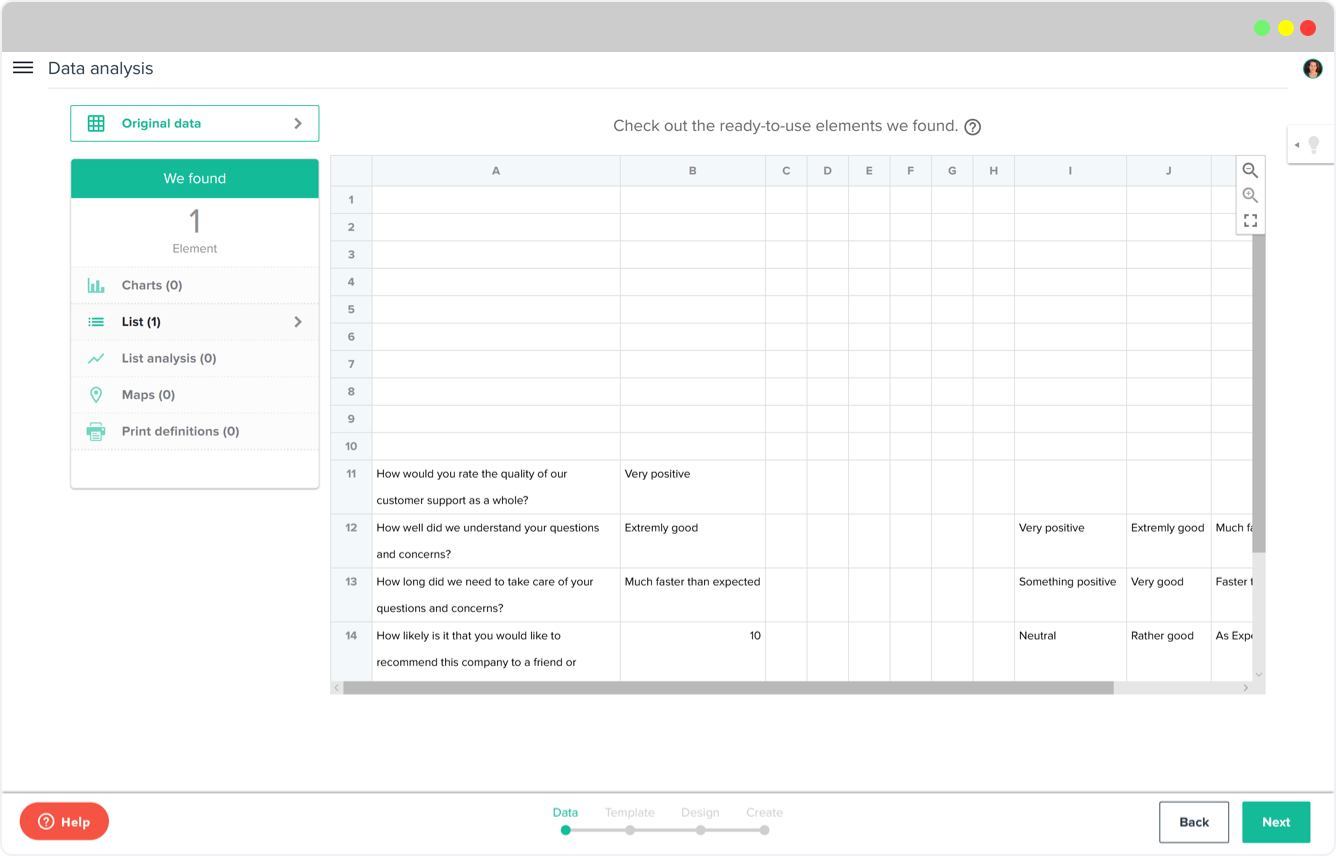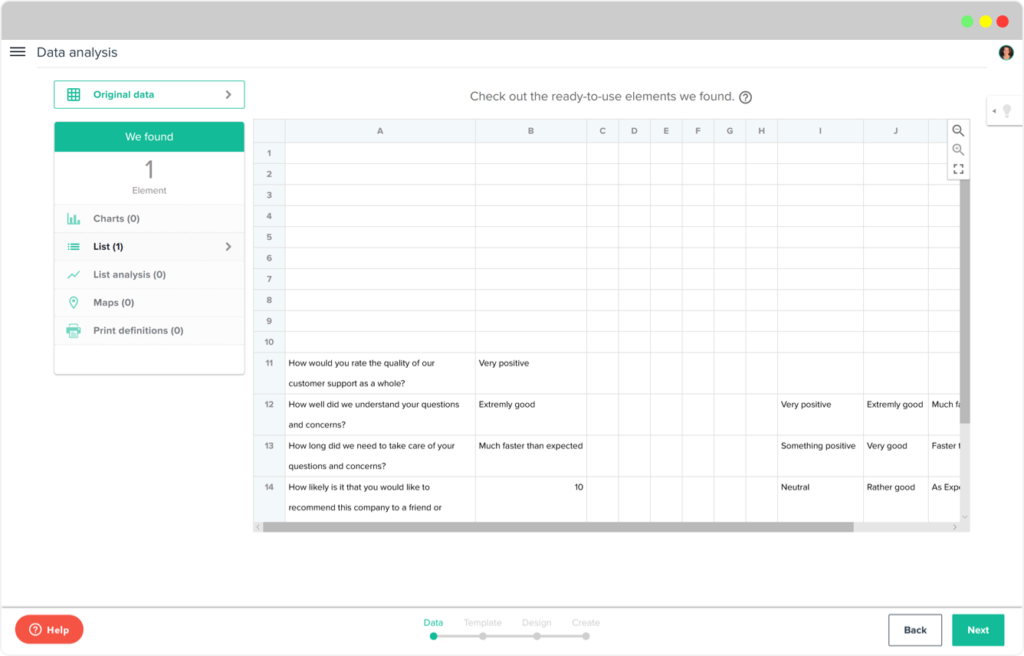 Use any spreadsheet form or spreadsheet questionnaire in Excel or Google Sheets
Upload your Excel file to the Open as App cloud or link it via OneDrive or Dropbox etc. The same goes for Google Sheets as well
Open as App will automatically analyze your data and display them in sheet format
And now, the app creation starts
And the ball is in your court…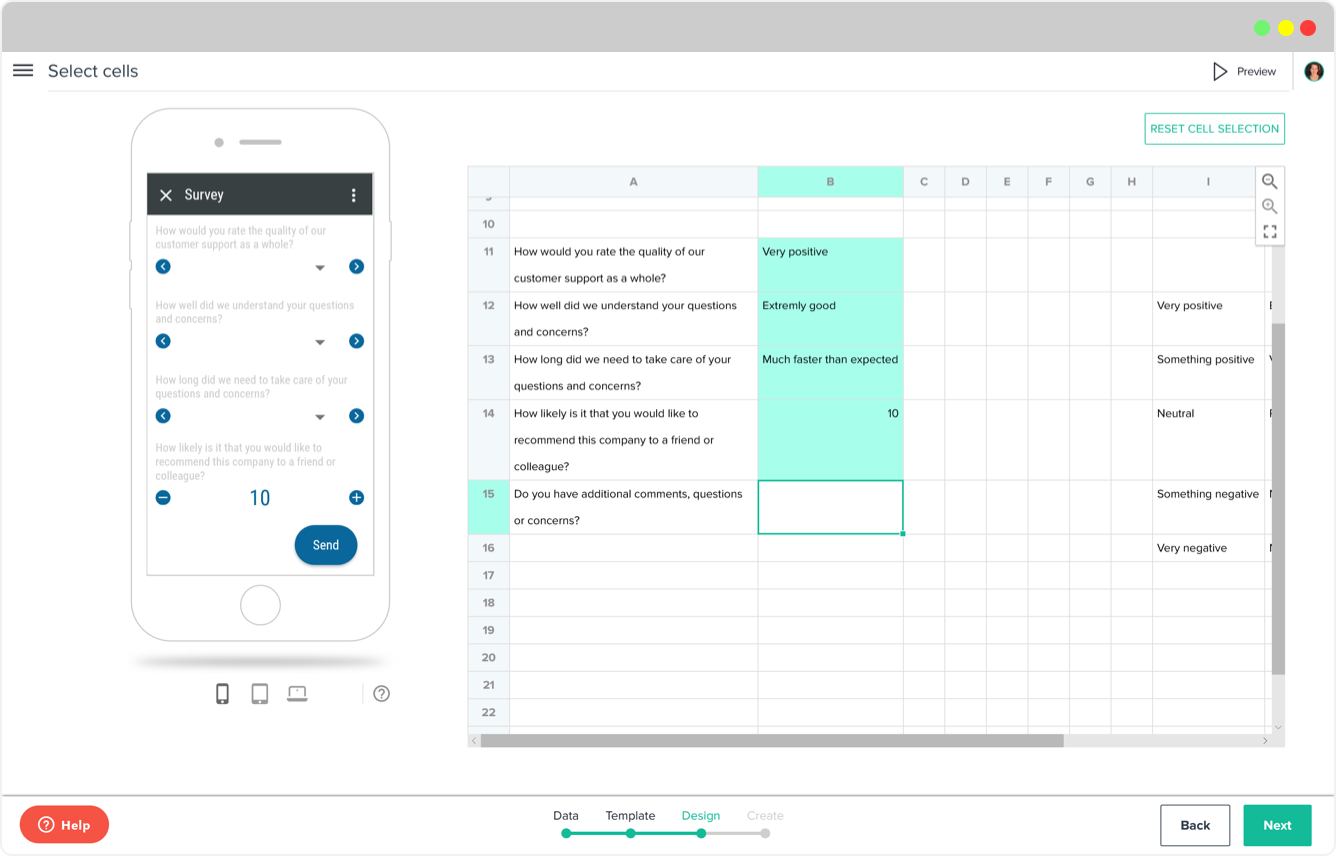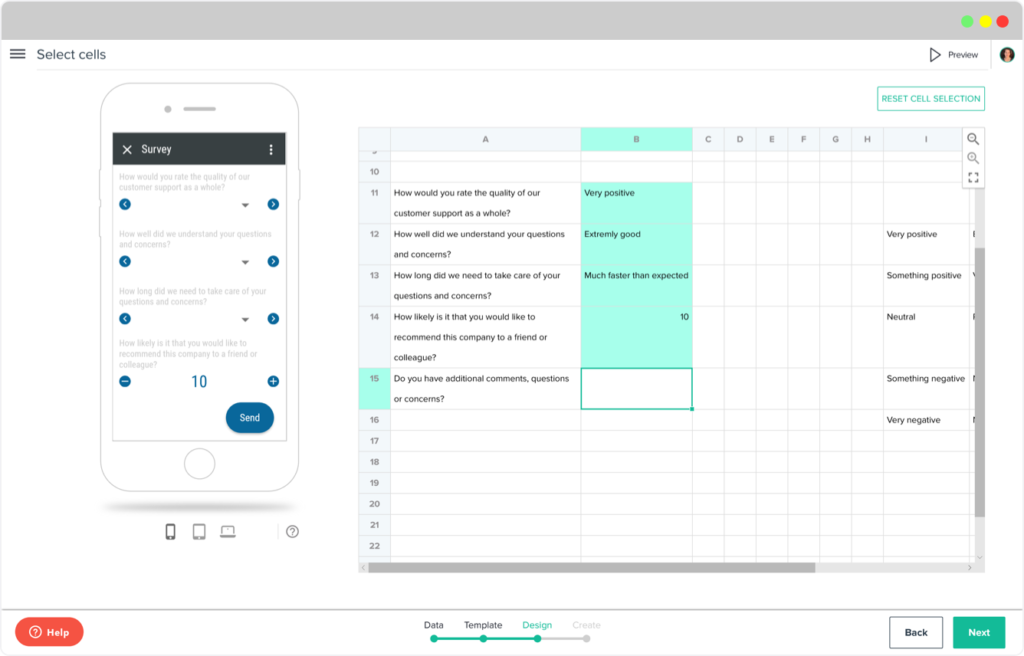 Pick Survey App as your app type and start customizing your prototype
Choose all the cells you want to show in your app and check the preview display
All formulas or data formats, like what if, numbers, currencies or dropdowns, are automatically transferred into your app
Move on when you have a first draft.
You can always come back later for more changes
What happens in the background…
Our algorithm helps you build a full-stack survey logic (if/then, skip, etc.) and it will instantly recognize the data format, whether it is a toggle, dropdown, or minimum/maximum value. And, it also automatically evaluates the results.
Now, get the look and feel right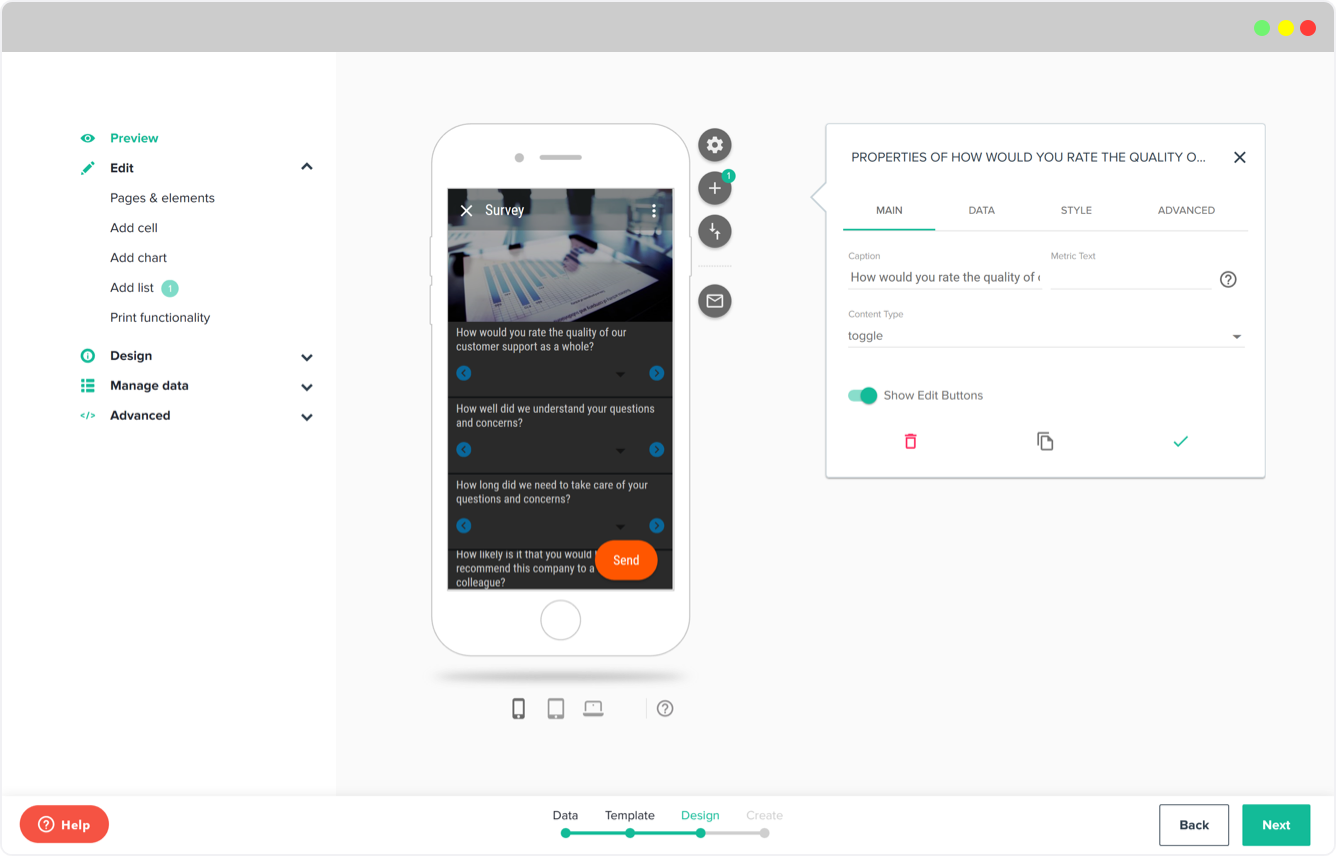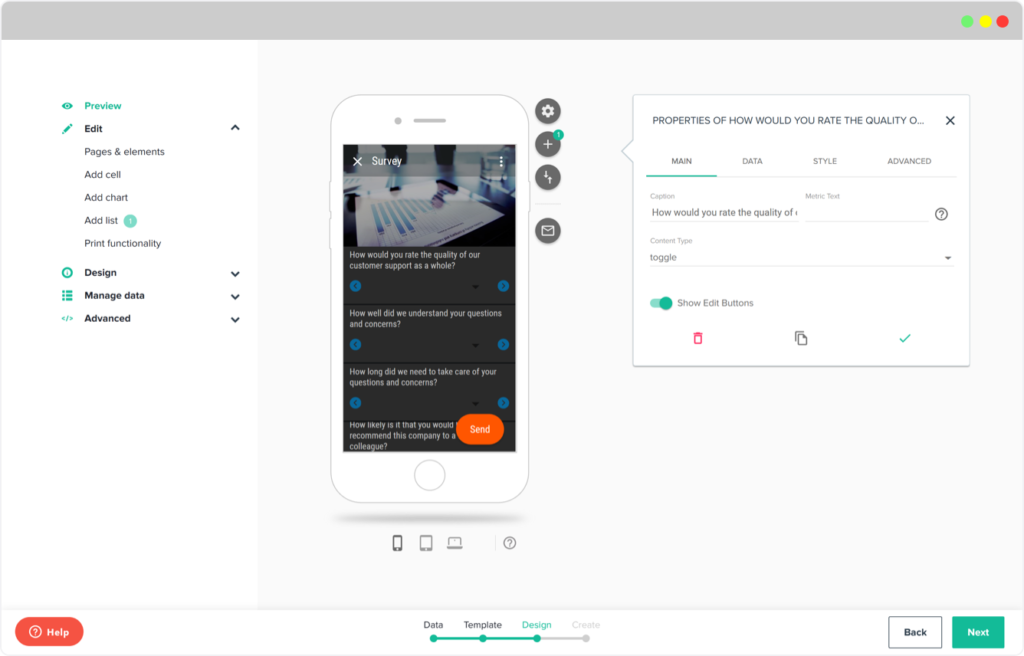 Decide on a design theme or select your colors from scratch
Change the sequence of fields by drag & drop or add new elements
You can edit each section or each field and add minimum or maximum values or the data format, like currency, hours/minutes, or else.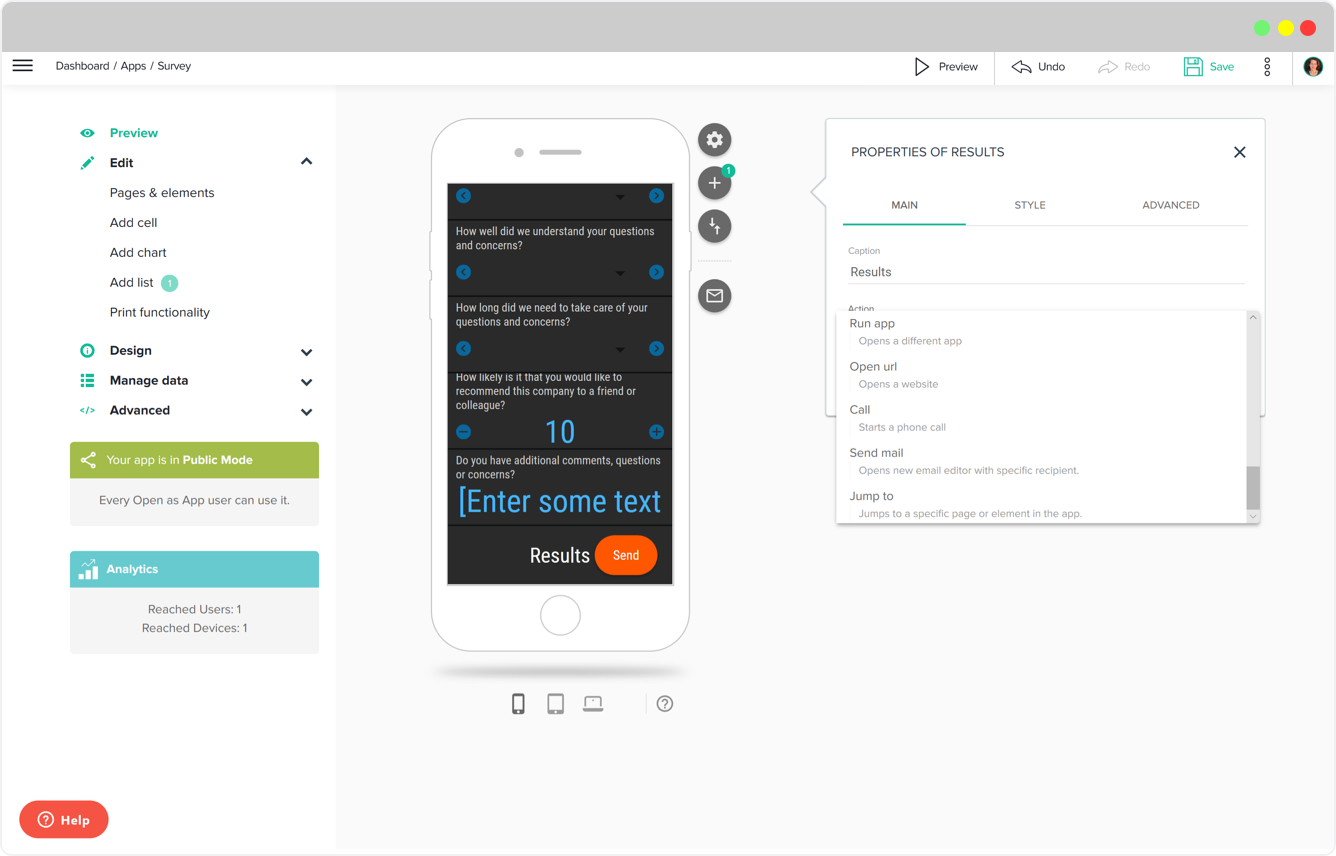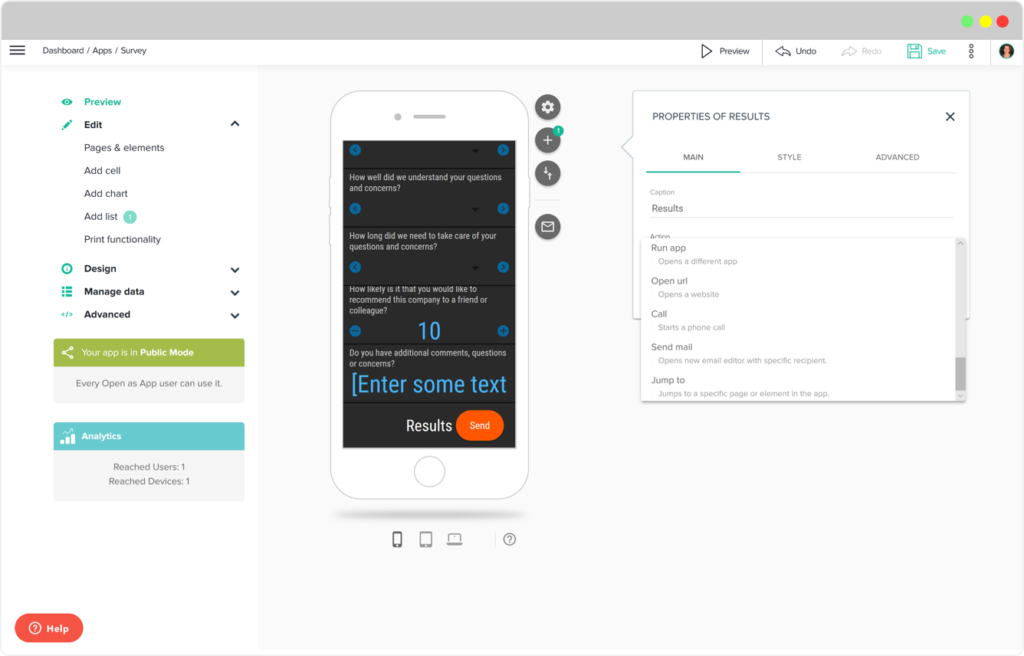 When you publish your app for the first time it is only available to you in private mode. Invite others per email or change the app setting to share your app publicly on social media or via a link. Open your app in the Open as App container app on your smartphone. Your app works online and offline.
Share and manage your app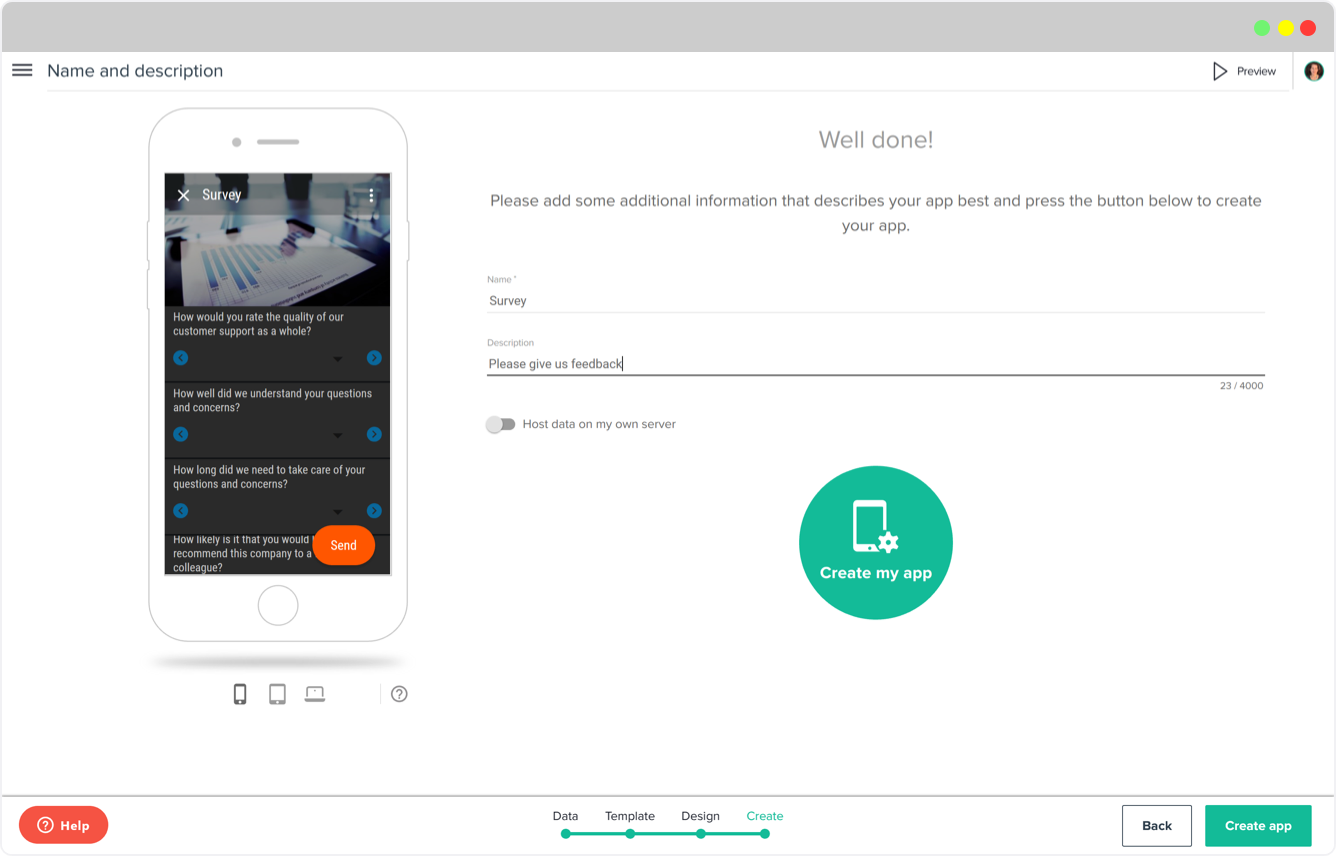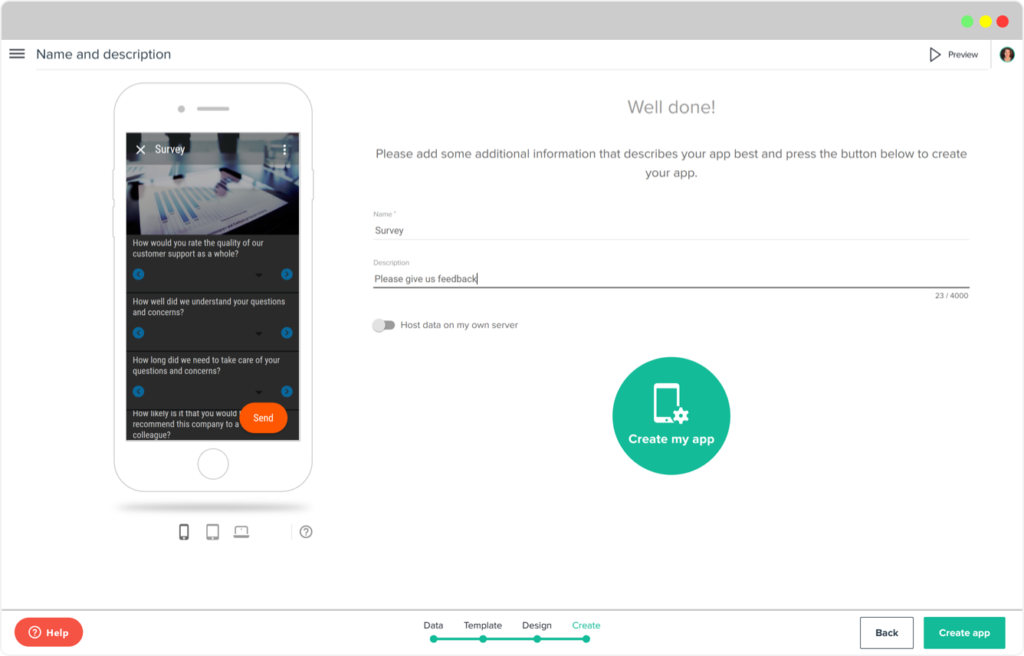 The Open as App dashboard is ready to manage your apps and users. In the Apps card, you can access all your apps and edit them or manage your users and change your apps' settings. Also, there are various ways to share an app via the app portal or your smartphone – depending on your app settings – private or public.
Access your data records and use them productively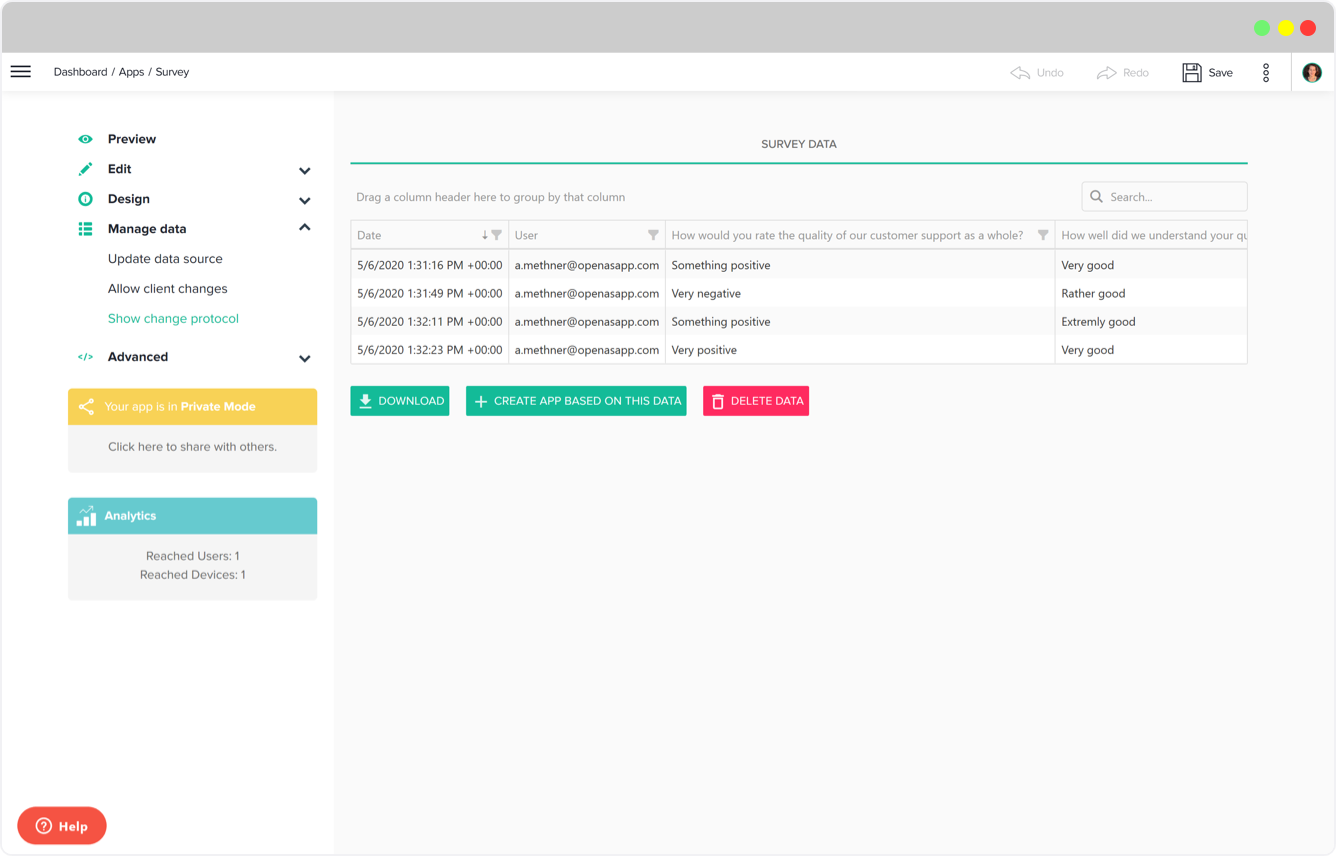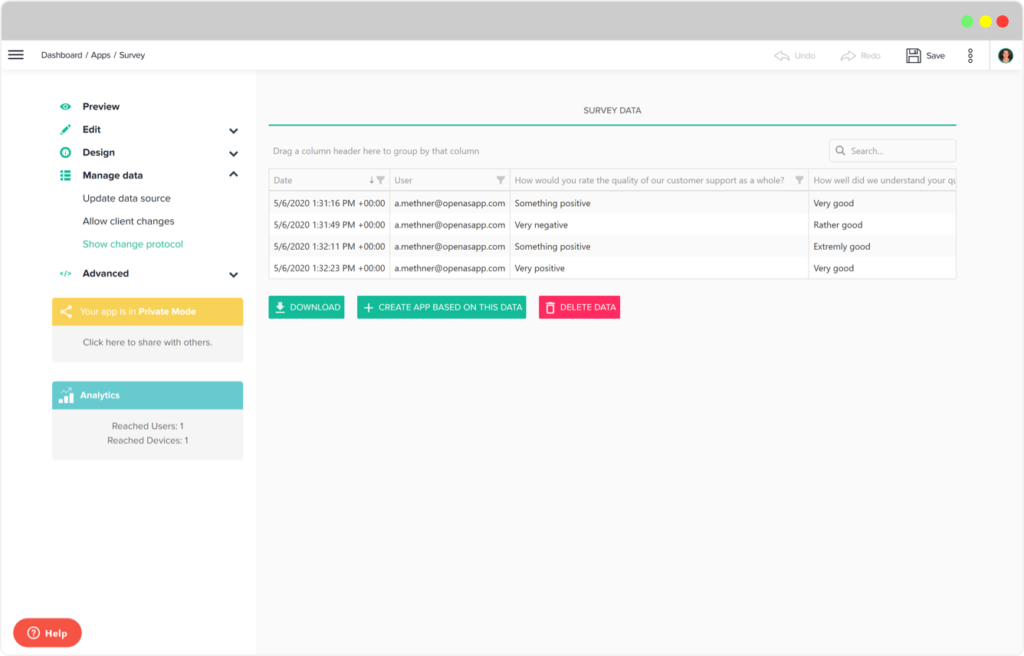 A survey app is for data input only. Each new data record is documented. You can open each record individually, export it manually (or automatically via web service), and create an app with automated data evaluation and all data records listed.
Bring data collection to a new level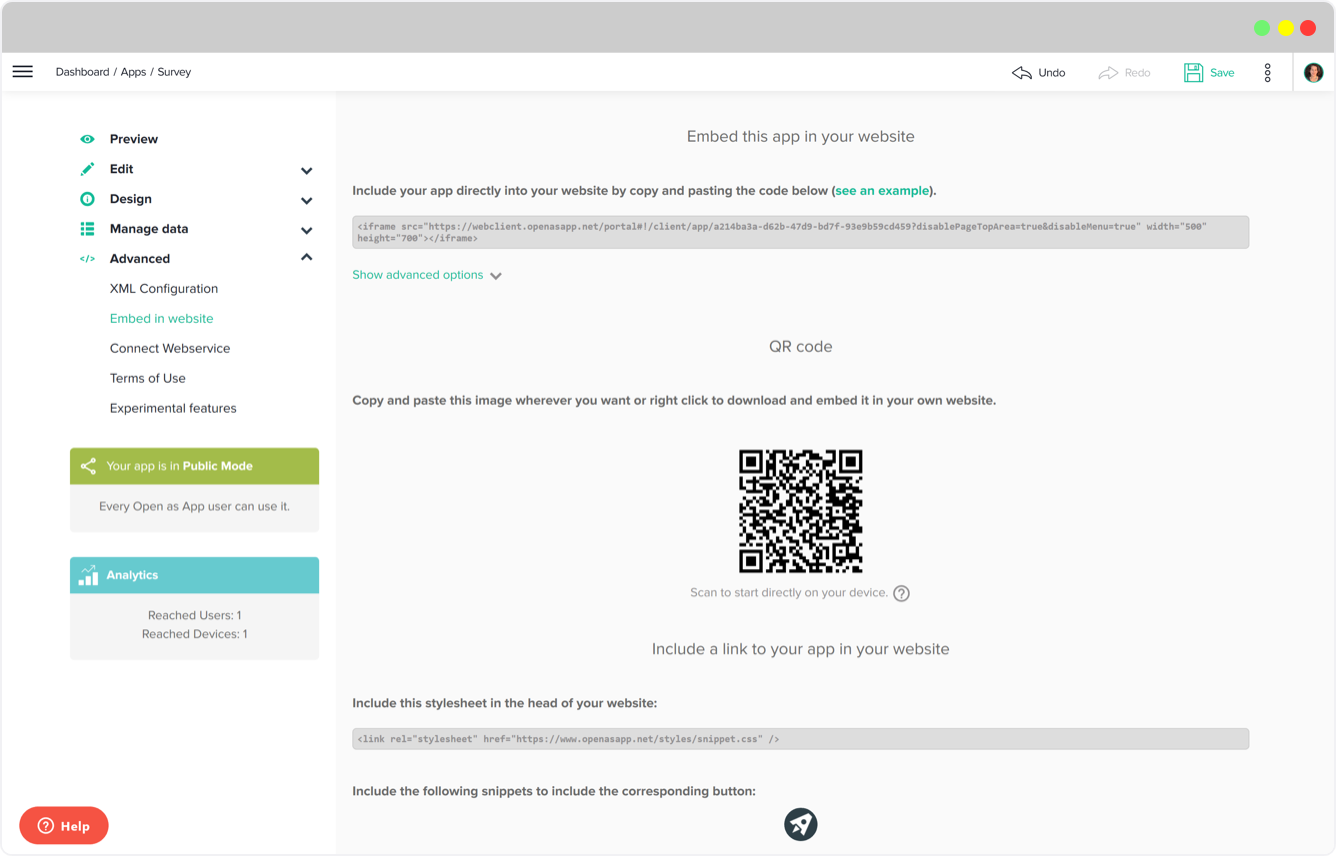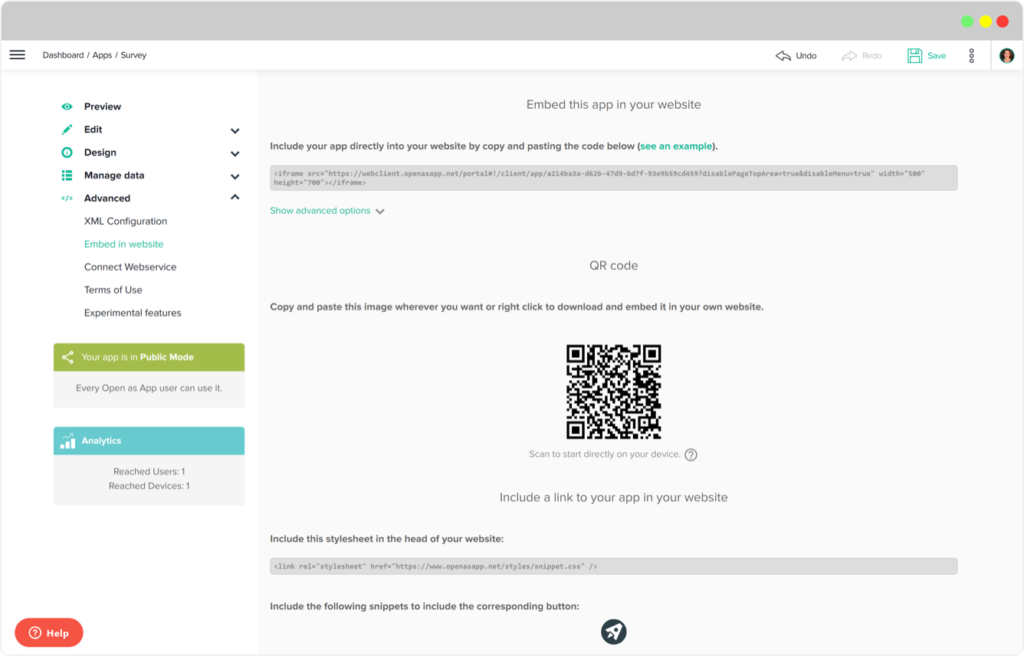 There are many ways to add more professional functionalities to your app and make better use of the data you have collected.
Display relevant fields dynamically based on previous answers.
Add a print button
Create an evaluation app with one click
Add your collected data to any system via web service
Add a button to open your evaluation app