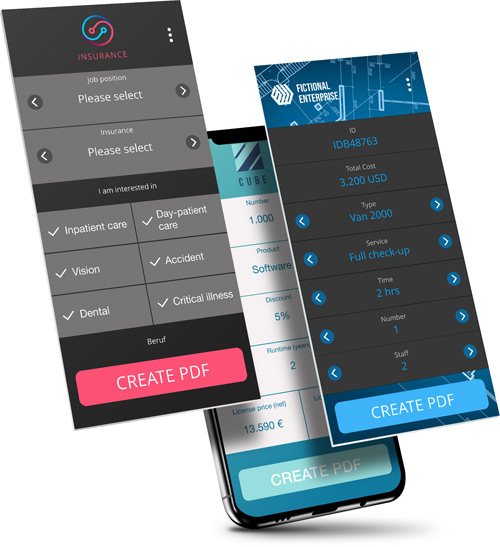 With no-code apps and platforms, any business can undergo a digital transformation within days. The underlying idea is to create apps in a low-effort low-cost way and to make data work for your company – but without learning to code or using software programming services.
The benefits are huge across industries – from small business owners and freelancers to executives, customer service, HR, and finance experts in large companies.
In this guide gathered all important information about no-code apps. You will learn what no-code is, how your company can benefit from apps without coding and which are the best no-code platforms.
No-code app platforms provide a user-friendly interface through which anybody on your team can create a useful app. Controlling the functions of the app doesn't require coding – they can be fully adjusted via an easy-to-use configuration toolbox.
No-code apps allow diverse groups of employees with a non-IT background to engage in development. They also add value to the digital transformation: more women, different age groups, and various departments within a company can realize their ideas without relying on IT and administrative gatekeepers.
One of the most popular uses of no-code apps is transforming Excel files into interactive apps. That's how you can unlock the power of your data, making it easily accessible to your team members and customers. However, no-code apps have various other applications that bring time and cost savings, improve internal processes, and contribute to digital innovation.
Let's dig in the basics of no-code apps and their use in diverse business contexts.
What are no-code apps?
No-code development platforms provide an option for end-users without coding skills to set up cloud-based application software. With the help of these tools, businesses and individuals alike can create apps through using ready-made templates for user interface and functionalities. These platforms allow people who are not software specialists to craft and deploy applications that address their specific requirements.
The apps can be both native and web-based to meet the diverse needs of businesses. They can also be either process-driven – based on an underlying logic that drives the execution process, or data-driven – based on the data processed, with their flow being governed by it.
The appearance of no-code apps signals a shift in the technological landscape. With the rising popularity of apps and their versatile uses, more and more companies are interested in employing them for their business needs. However, creating an app from scratch is complicated: it requires a financial investment, as well as using the services of a qualified software specialist. As both are usually in limited supply, no-code development platforms offer a viable alternative.
One of the main differences in creating an app in the traditional manner and via a no-code platform is the approach. Software developers devise a way in which an app would execute certain functions. They predefine how it will do a certain task, not only what it will do. This is called the imperative approach.
With no-code apps, the approach is declarative only. End-users without coding skills simply state what they would like an app to do by employing a no-code platform's dashboard.
The declarative approach has certain limitations. To a large degree, no-code apps created by 'citizen developers' can rarely be as complex and evolved as the ones created by software specialists. However, for a large group of functionalities, no-code apps are a great substitution to the lengthy and expensive process of developing an app from scratch.
What is the difference between no-code and low-code apps?
The main difference between low-code and no-code apps are the people who are able to create them. In contrast to no-code apps, low-code apps still require some traditional software development.
Therefore, their main users are developers. Low-code platforms work with certain no-code elements, which speed up development processes. Developers are able to focus on details and complex customisations, while the low-code platform provides them the basic elements.
No-code apps do not require any IT resources, so their users are usually business people who work in a different department and do not have any software development skills.
How do no-code platforms work?
Users have at their disposal a toolbox from which to start creating their app. They can drag and drop visual boxes in order to add and arrange functionalities, instead of using a text editor for code. Usually, there are also drop-down menus to choose from a set of options, as well as a color palette to brand the app. In addition, many platforms offer ready-made templates for many common business use cases. Then users can employ the template and build on it additional functionalities that are specific to their company's needs.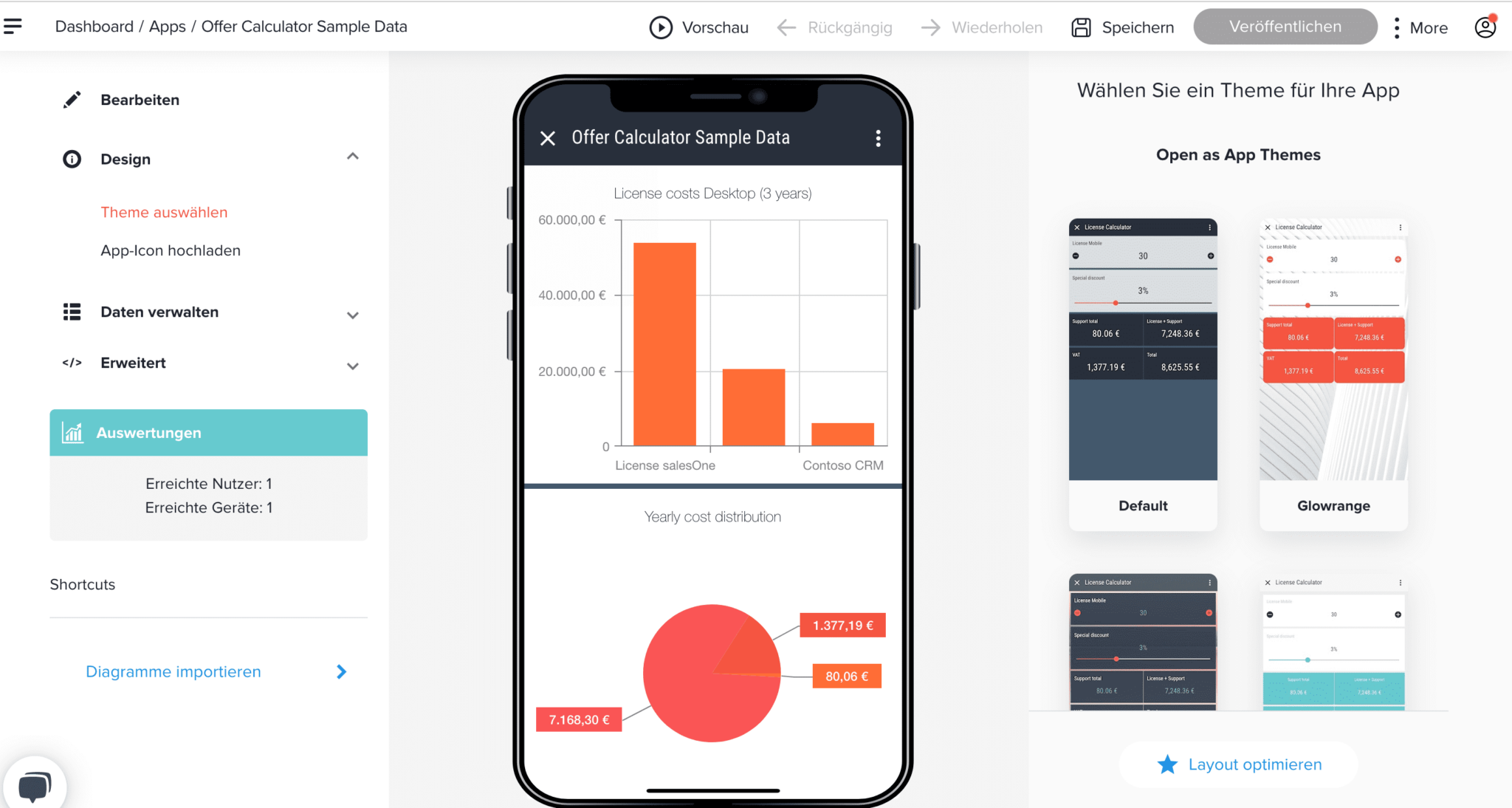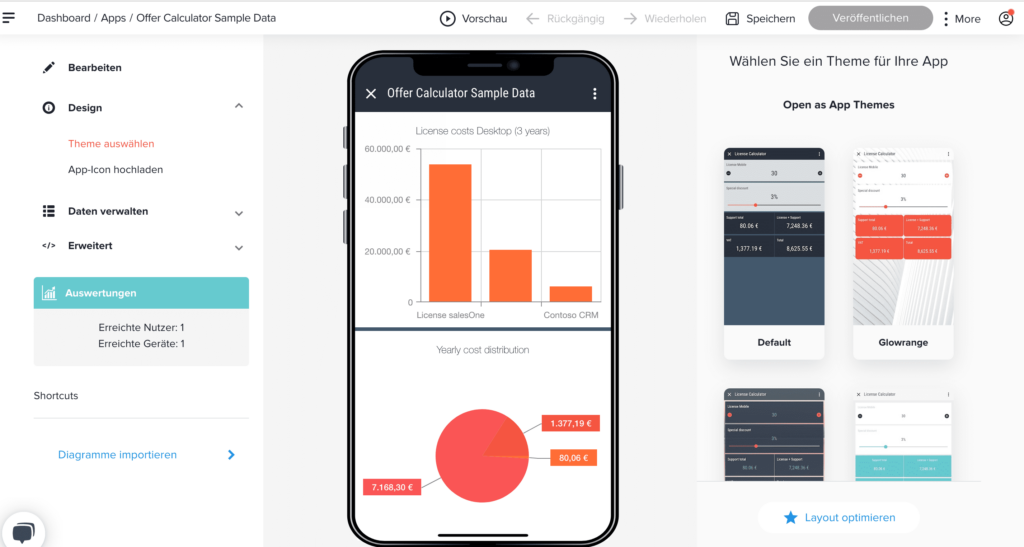 Through the visual and intuitive interface, which graphically replaces the lines of code behind it, end users can set up their application, connect it with databases or web services, integrate it with other tools, and start using it for tackling work tasks. Besides the ease of use, no-code apps thus drastically reduce the app creation and deployment time.
The benefit of no-code apps: time and cost savings
In the digitally saturated business market, applications are in high demand across industries. Yet the barriers to creating them are numerous.
One of the major challenges to rising digital needs is the shortage of qualified IT specialists. With large backlogs in IT departments, the traditional software development approach cannot deliver solutions at the rate that they're needed. As companies need to be agile – or risk losing opportunities – no-code apps are a powerful option that can satisfy at least a part of the demand for app creation. Their use leads to direct time savings for businesses and IT teams, as well as diversified digital options.
App development projects are not only time consuming, but also expensive. If a company needs to work with an external IT specialist, it has to pay for a long process of creation, deployment, updates, and maintenance. Due to budget limitations, many businesses simply cannot afford apps. That's why no-code apps that are readily available and come at a lower cost can be efficient solutions, leading to significant cost savings.
Who can use no-code apps?
The uses of no-code apps are versatile, but the unifying element is that they open new doors in terms of digital capabilities. They can be helpful for businesses of all sizes and in many different trades, as well as for individual professionals.
No-code development platforms give the chance to anyone who wishes to become a 'citizen developer' to create web, mobile, and business applications. What's more, business owners can empower their employees to craft the tools they need for their work. Team members can easily create the apps they see as best suited to address the gaps in their daily processes.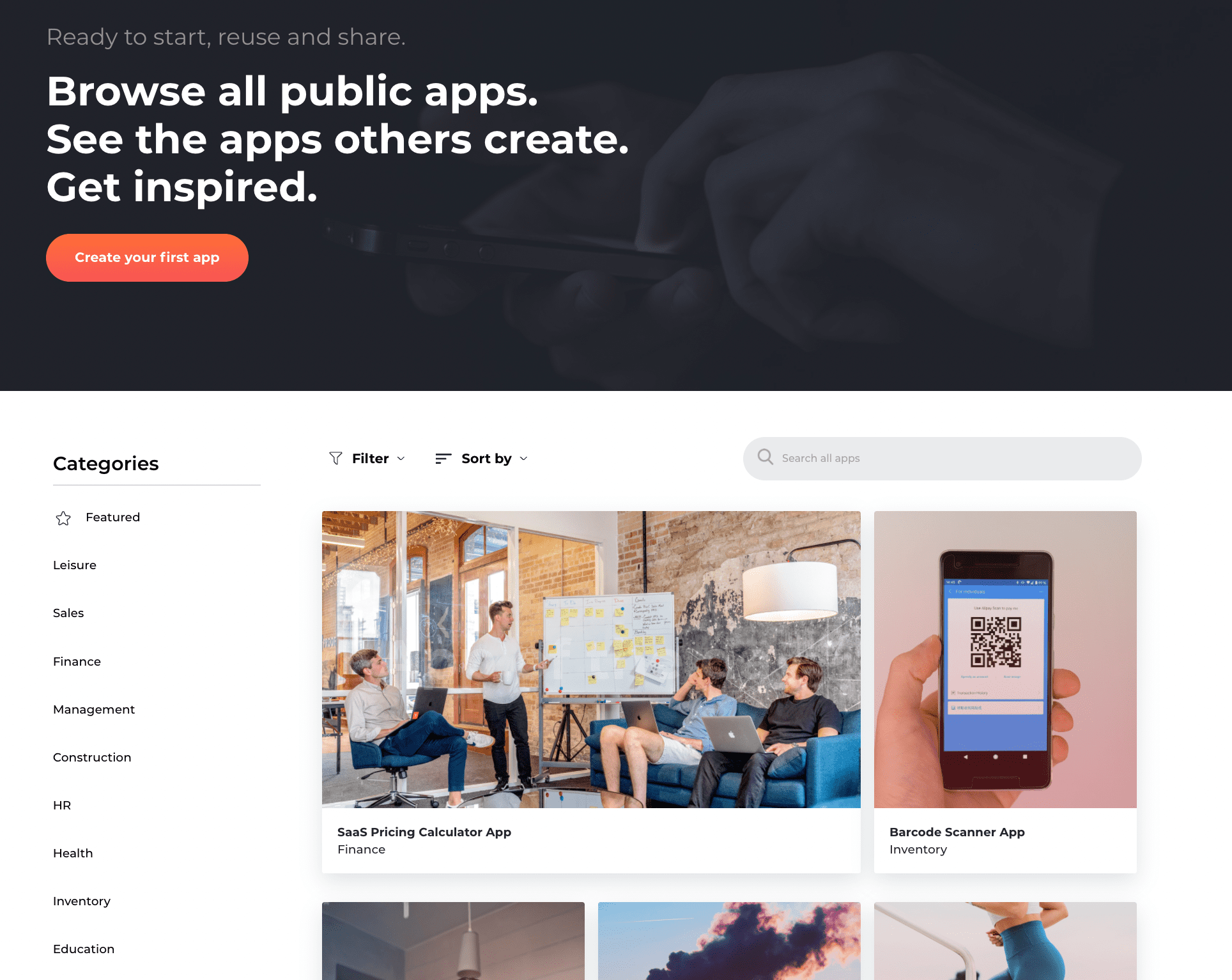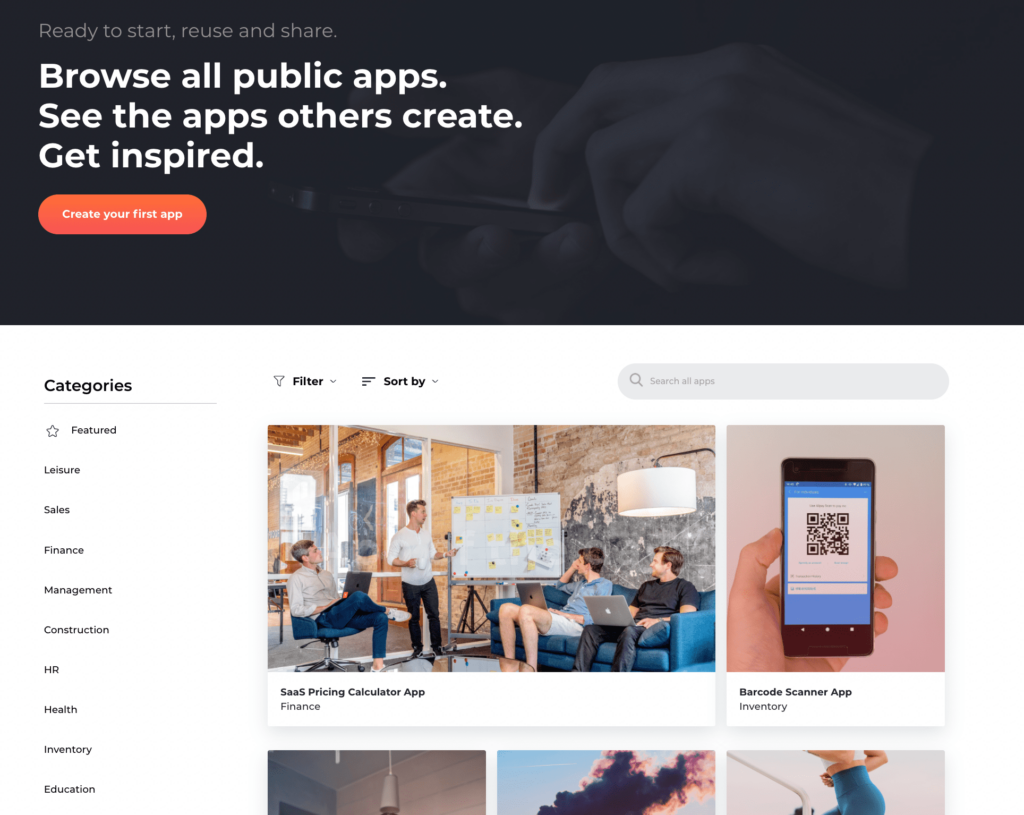 Small businesses
For small companies, hiring a developer in-house or using third-party services is often simply impossible financially. That's why apps remain out of reach for most small businesses. With no-code apps, owners can get the value of apps without a large investment. The no-code platforms thus are a real game-changer for small companies, as they allow the creation of important customer-facing apps that can fuel sales and customer engagement.
Sales and marketing teams
Developing an app from scratch for a sales or marketing team would often be unthinkable. Even if a company can afford it, the process can be slow and complicated. With a no-code app platform, marketing and sales staff can create easy-to-use tools that automate their daily tasks.
Enterprises
At larger companies, financial resources are not the only consideration for or against app creation. It's often a matter of time – due to the slower procedures in enterprises, which require the input and approval of multiple stakeholders. No-code apps, though, can be created, maintained and updated by almost anybody in a team within a large organization. With minimum input and supervision from the IT department, they help speed up internal processes and bring overall improvement in operations.
Consultants and freelancers
Solo professionals can also benefit from the no-code creation of apps. They would otherwise rarely think of having an app for certain aspects of their work, as it wouldn't make sense in terms of the financial investment. When the initial effort is small, though, consultants and freelancers can use no-code apps to optimize their operations in diverse ways.
What can you use no-code apps for?
The limits on how a business can employ no-code apps are only set by people's imagination. The uses are innumerable and span most aspects of a company's functioning.
Business Processes
No-code apps can speed up and ease the work of a team through their automatization, (bi-directional) operability and visual representation of complex data. On the basis of complicated Excel files, such an app can offer the information in a format that's actionable and easy to digest. Other popular applications are in inventory management, equipment inspection, safety audits, and many more. In manufacturing, teams can use no-code apps to handle supply chain visibility, reporting, warranty management, and logistics.
Accounting and Finance
When it comes to accounting and finance workflow improvement, no-code apps can be of immeasurable help to financial teams. Automatic reporting, profit and expense analysis, and investment tracking are only a few of the possible applications. Other uses include accounts receivable collection, payroll and invoice reporting, among others.
HR and Administration
HR automation is feasible and cheaper with no-code apps. Employee onboarding and performance reviews can be optimized with easily created, user-friendly apps. They can be shaped to meet the exact needs and processes of your HR team.
Marketing and Sales
With the help of no-code apps, marketing teams can streamline their campaign creation and distribution. The creative process can run faster and in a more organized way with easier collaboration through targeted apps. No-code apps can also help digest data for in-depth content, which in turn feeds into more valuable marketing and sales assets – price and ROI calculators, catalogs, etc. No-code apps are an excellent tool to improve marketing reporting.
Industries that already use no-code apps
Software automation is on the rise, bringing a shift in how a wide range of industries operate today. Innovative applications are revolutionizing processes and bringing unseen speed and efficiency, and no-code apps are a part of this. Here are some of the fields in which their impact can already be seen.
Manufacturing
No-code apps have already been tested and applied in various parts of the manufacturing process. With custom-made apps based for example on ERP or Excel data, manufacturing businesses can handle a wide range of daily operations in an optimized way.
Order management, the calculation of production costs, quality assurance, and invoice creation are just a few examples. In fact, no-code apps can be used in every aspect of production: from material procurement and bill of material reports to completed items inventory, including process routing and procedures for approval.
Logistics
The transportation industry is no stranger to digitalization through the use of no-code apps as well. They have been put to practical use in logistics, offering solutions to everyday operational challenges.
Some of the functionalities of the no-code apps that businesses are already employing include barcode scanning of goods, inventory management, and automated low stock and delivery notifications. With the help of tailored apps, logistics companies can also handle supply chain accounting, as well as go paperless with ease.
Retail
Inventory management is a major task that food and retail businesses need to take care of. Endless hours of stocking, counting, and reporting are inevitable for supermarkets, food joints, clothing stores, and pharmacies, among others. No-code apps are helping innovate the inventory management process.
Business owners and employees create inventory apps on the basis of data spreadsheets, which even have QR codes and barcodes. They thus set up systems that are tailored specifically for their operational needs. The apps can provide additional features such as automated restocking reports and expiry date notifications, which contribute to a smooth sales process.
Retail companies can also create apps that tackle inspection checklists, suppliers' data, turnover reports, production distribution, and many more activities. They can also optimize other operations like purchase orders and invoicing, as well as timesheets and payroll.
Insurance and Finance
The insurance and finance sectors are also widely adopting no-code apps. The secure and bidirectional handling of data, combined with the low cost of app creation, deployment, and maintenance, are among the main factors driving their early adoption.
For insurance companies, no-code apps offer an easy option to organize data about their customers and cases. They can, for example, create apps that help customers to select, calculate, and compare insurance packages. As for the finance sector, from small to large databases, financial experts can craft data-driven apps without development knowhow.
The top 7 no-code app platforms
No-code is still a new technology. Providers often have very different approaches to no-code and the focus regarding the kind of apps one can build varies greatly from simple lists in online apps to complex native dashboards apps or even Enterprise business systems.
We will give you an overview about the 7 best platforms in our no-code platform comparison:
Open as App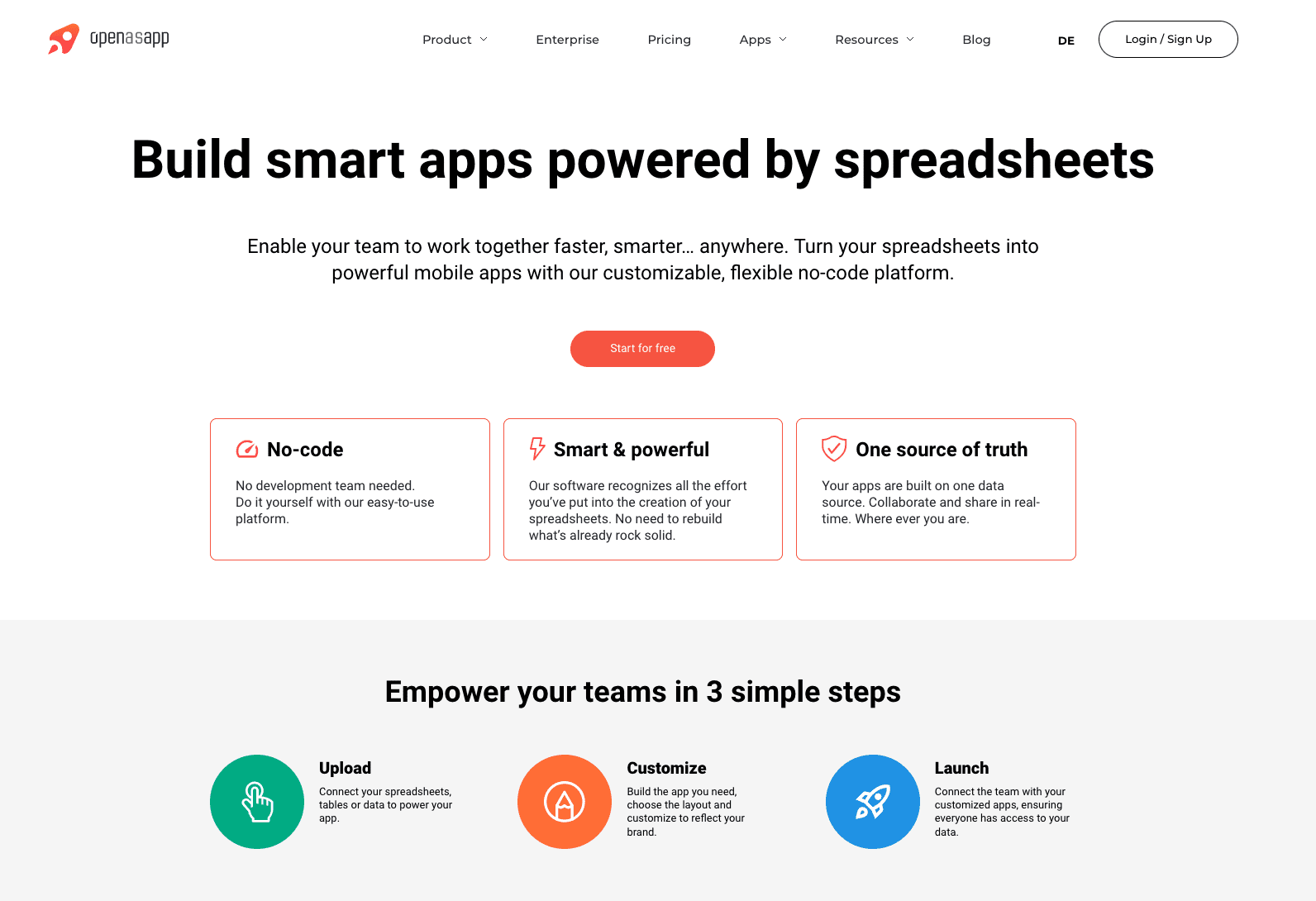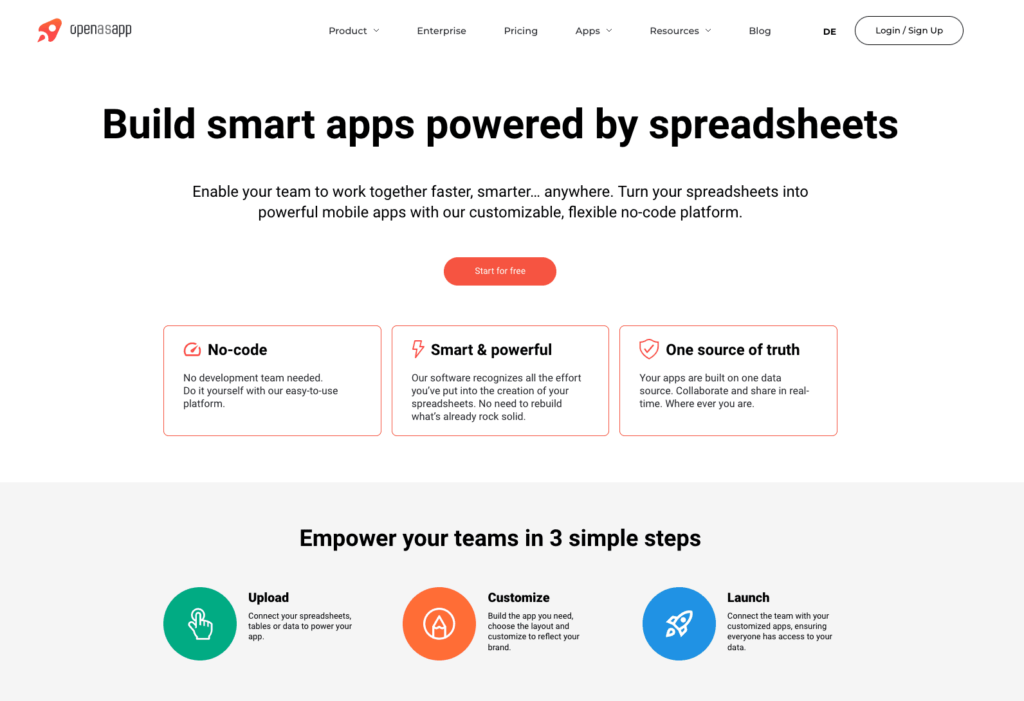 We are working hard to make Open as App the most intuitive solution for making no-code apps. The platform allows you to easily create apps from your data – whether it's in Excel, Google Sheets, Salesforce, Microsoft Dynamics, SQL, or Dropbox.
Simply by connecting your data source, the app wizard comes up with a suggestion for a user-friendly app that is ready for sharing as a native app, web app, or bot. Open as App empowers your no-code app and app management with a variety of features, such as data input, surveys, automatic chart recognition, charts, calculation and logic transfer, handling of users, user rights, among others. You can get inspiration from public, ready-made dashboards, reports, calculators or lists, and then craft your own bespoke app with a few clicks.
How to select a no-code platform
You are not sure which platform best meets your business needs? We´ve created a checklist with all criteria you should consider!
Kissflow
The idea of Kissflow is to supply a unified digital workspace for modern businesses. The platform offers customizable solutions for process, case, and project management, as well as for team collaboration. Users can craft the exact app that matches their needs. Kissflow has separate products for HR, procurement, finance, and schools.
Zudy
Zudy is a platform that allows enterprises to build apps based on their data from one or many diverse sources. Without the need for coding, non-IT departments can get complex analytics of data from Salesforce, Oracle, SAP, Microsoft SQL Server 2014, and IBM DB2.
AppSheet
AppSheet helps you transform the way you work with the help of easy-to-craft apps. You can input your data in the form of spreadsheets, and then control the app's capabilities through the dashboard. AppSheet offers location logging, image capturing, barcode scanning, notifications, and reports.
Betty Blocks
Betty Blocks defines itself as a 'citizen development' platform for enterprises. It allows the building of complex, enterprise-grade apps through a visual dashboard based on data modeling. Betty Blocks integrates with Oracle, HubSpot, Salesforce, SAP, Microsoft Dynamics, and more.
Zoho
Zoho's Creator is a multi-platform app builder. You can either create your own app or use the premade templates if they fit your needs. With Zoho, you can handle mundane administrative tasks, as well as complicated process automation.
Bubble.io
Bubble.io offers a programming language without the need for coding. With its help, you can create and host web applications that are easy to use and control.
No-code app examples
We will show you some of our favorite no-code example apps. All of them are created with the no-code platform Open as App without any development skills.
The product calculator app is a very helpful tool for salespeople. While pitching about available products to potential customers, they are able to easily calculate prices of products with complex pricing. All cost factors are taken into account and the salespeople just have to make changes according to their customers desires. In the sales-pitch they can totally focus on their customers.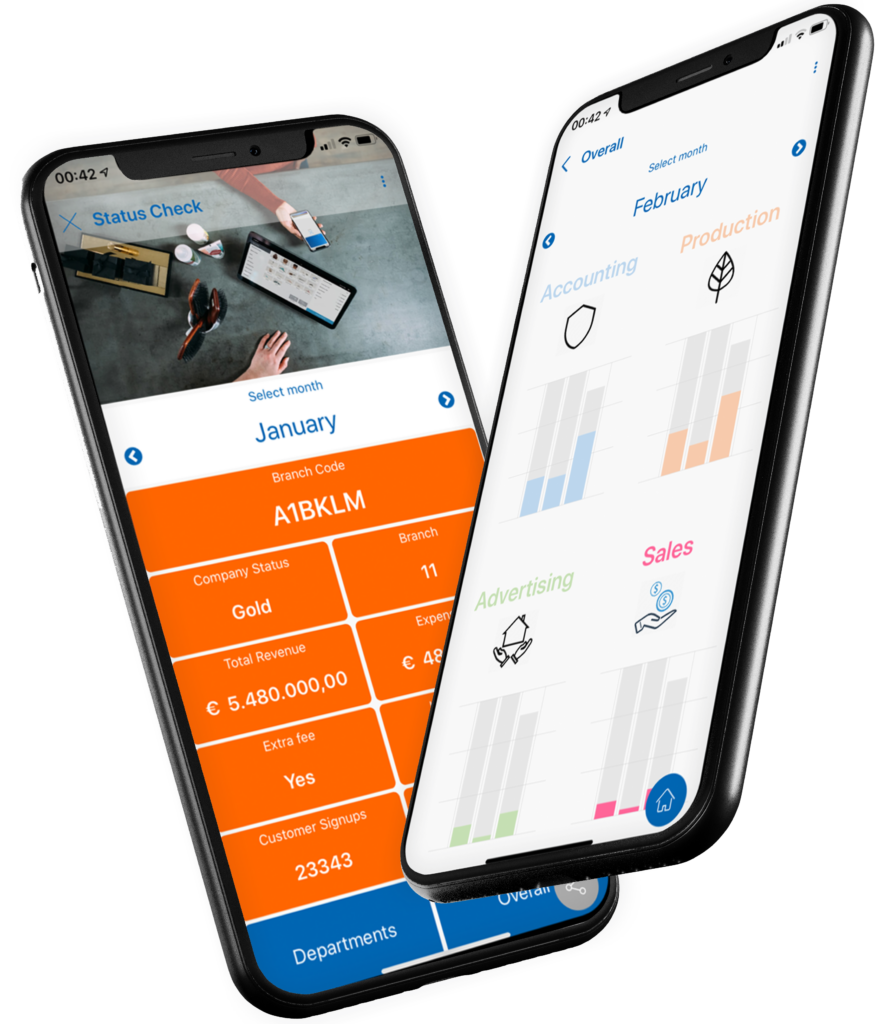 The no-code lead capture app helps you collecting all your leads in an easy way. It is available online and offline and especially useful on fairs and trade-shows. Leads will directly appear in your CRM system.
The equipment inspection app helps to regularly track the installed equipment in your company to insure safety and high quality equipment. Team members can upload inspection results, so they always have easy access to data of past equipment audits and can easily check the performance history of the machinery.
You can see that the use cases and examples of no-code apps is huge. Browse our app catalog and get inspired by the high number of possibilities.
Excited about the power of no-code apps?
As no-code apps find uses in numerous business fields, they are contributing to wide digitalization and optimization for millions of companies and professionals across the globe.
What's your take on no-code apps? Please share how you're employing them for your business and management needs.
Or, if you're ready to create your first application, head over to our app creator to see the power of Open as App in action.